Before I dove in both feet on this hunting beast deal I was a bit of a degenerate trout bum. No trout streams within 2 hours and little kids and I put the flyrods away for the most part for 5 or so years and focused most of my energy on bowhunting for deer since it was a more consolidated season, I could do it close to home, and honestly was looking for something a little more challenging.
As my girls have gotten older they have taken to fishing a little, including enjoying tying flies with me, so I've been slowly trout fishing a little more over the last few years again. Ran to my cabin in central WI this weekend to clean up some trees from the storm and fish a little.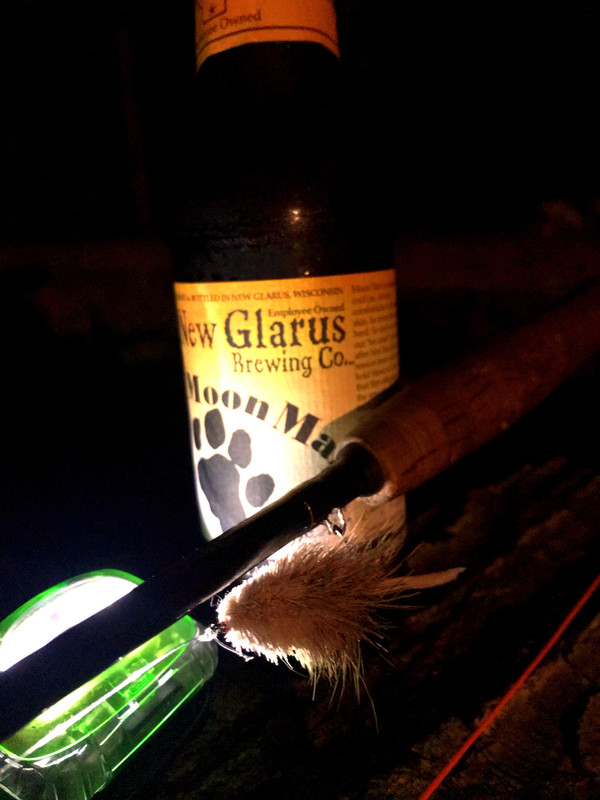 Friday night tried doing some mousing in the dark. Missed one fish, but with some cloud cover it was pitch black and I usually do a little better with some moon light.
Didn't get back to the cabin until 12:30 am, so slept in until around 6 and headed back to a different section of the river a couple miles back in the woods. This isn't wide open big western rivers, it's tight quarters fishing and I was a little worried I'd be too rusty to keep out of the trees.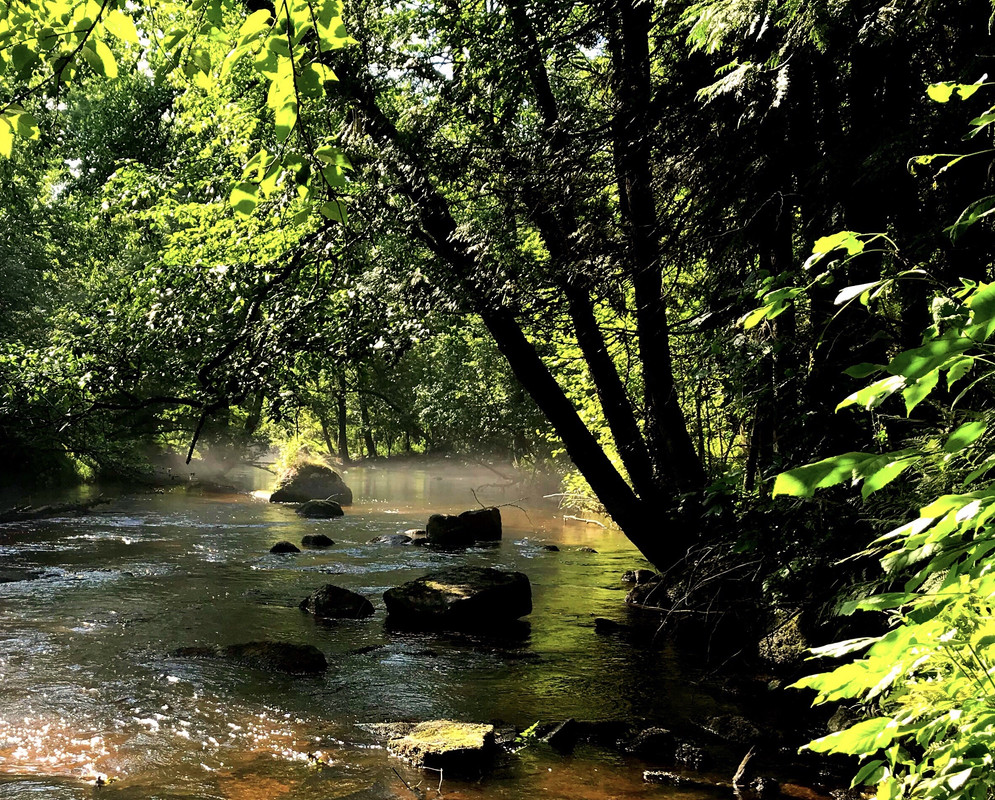 I started at a hole with a nice log on the opposite bank with a #14 stimulator. I saw a trout rise at the head of the log and managed to drop the fly right where I was aiming for a few good drifts, but nothing. Nothing was hatching so I knew if they were looking up it would be for terrestrials. The water was unseasonably high and stained. I slid up to the next hole, a little tunnel in the tag alders with a nice granite boulder centered in the stream an about waist deep. A few more drifts and the brain got going. I dug out my terrestrial box and grabbed a little bigger deer hair hopper with rubber legs I had tied up a while back. First drift along the rock and a gorgeous 17 inch brown smashed the fly. Just needed a little more of a profile to get them off the bottom in the stained water.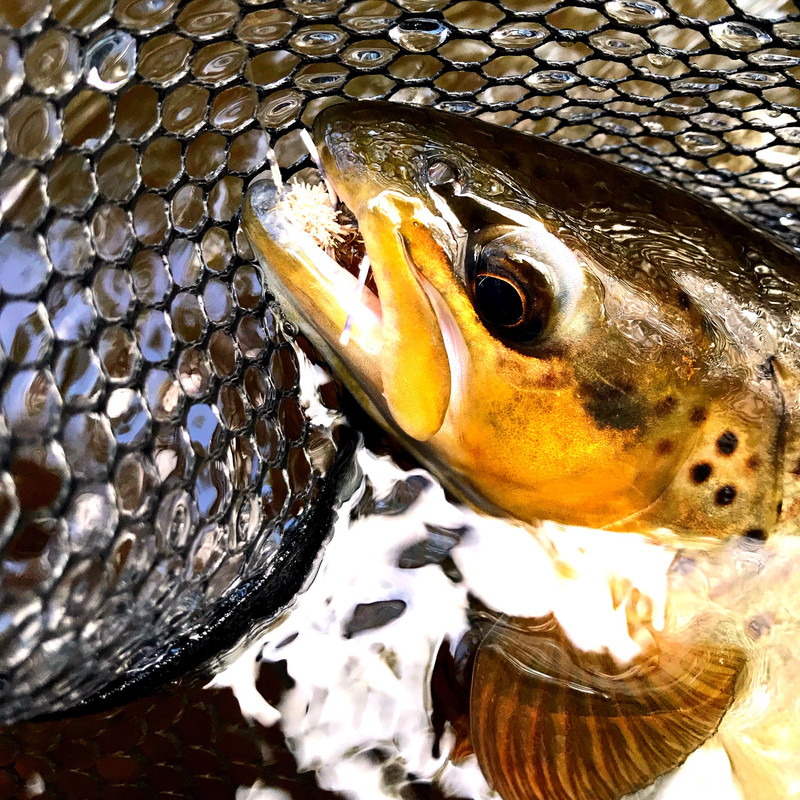 Kept working up through the tunnel wet wading in the cool water and finding openings to drop the hopper, missed a few fish, then got to a perfect looking spot where the tags pinched into another big granite boulder with a log sticking out from the left bank. First drift off the log I had a 14-15 inch fish come out of the water after the fly but miss. Two drifts later off the opposite side of the rock I watched a head porpoise out the way a big fish usually does and hooked into 20+ fish that luckily came straight downstream at me and I was able to get in the net before I think he even knew he was really hooked, which was good becausse I was rolling with a 2 weight rod!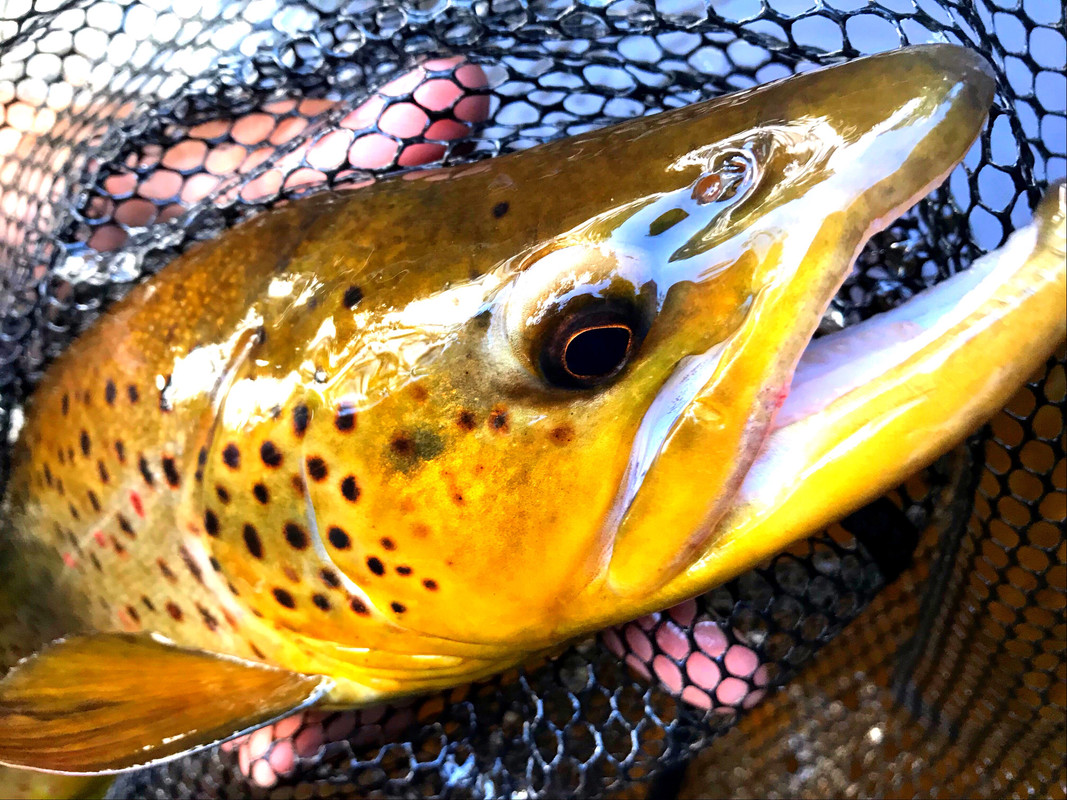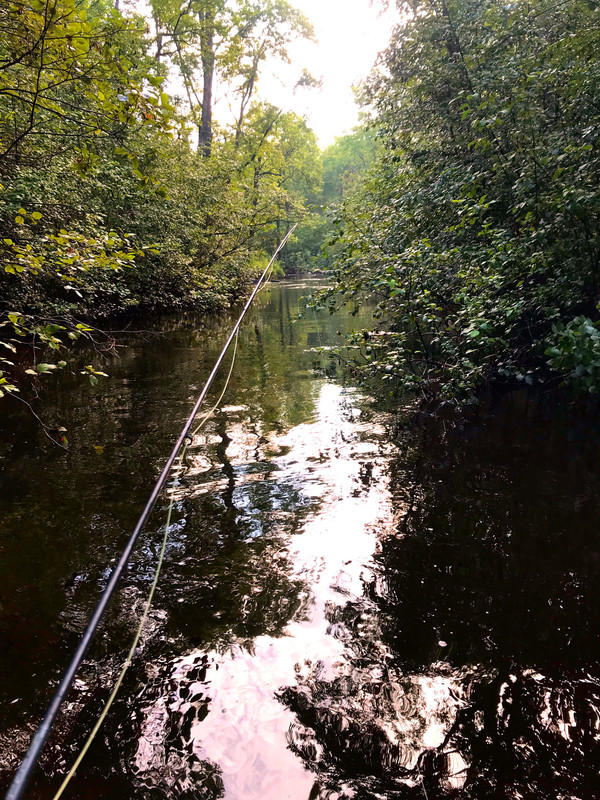 Big boy came off the right side at the tip of the rod, hit about 12 feet from where I was standing waist deep.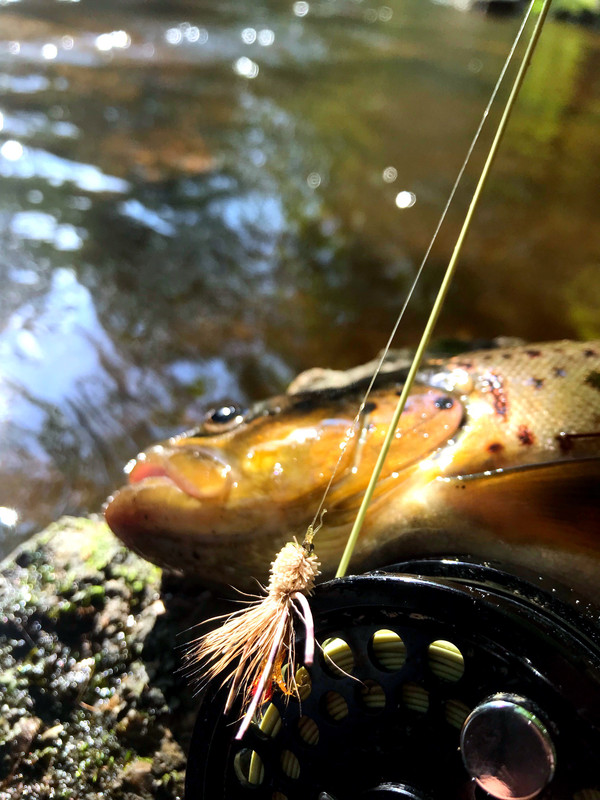 Got one more about 15 incher for dinner and missed a few more. Hit a smaller stream in the evening and got a mess of little brookies and ran across both a wolf and big bobcat track. Not a bad Saturday in the woods!