Been up in Vilas County fishing hard. Buddy of mine never caught a musky so my goal this trip was to do whatever it takes to help him get a good fish in the boat.
I gave him all the gear he needed, let him cast from the prime position at the front casting deck and handled all the boat control so he could concentrate on nothing but catching a musky.
Came close on Thursday morning when I told him to cast the edge of a weedline in a bay that was 3-4 degrees warmer than the rest of the lake because I felt that it may have some active fish. After only a few casts he felt the power of a musky hit his bucktail. It was a good fight and I immediately grabbed the net excited to see him get his first musky. Just as the fish that appeared to be in the 36" range was getting to the point I could net it the bait suddenly popped out and the fish was gone.
We felt defeated but I explained that is musky fishing and we have to keep at it. In hindsight he probably didn't keep enough pressure on the rod and kept the rod tip high giving the fish enough slack to shake the hooks. Lesson learned and explained how to correct it for the next time. Deep down inside I knew that may have been the only opportunity we may have but stayed positive.
We fished hard all day/night Thursday and all day on Friday without much action other than follows from small fish. Sunny, warm and flat calm conditions made it very tough but I payed attention and noticed moonrise was just after 6pm so combined with sunset I figured our best chance would be from then till just after dark.
We hit all our prime spots during what I felt was prime time using every tactic and bait I could think of but started to run out of options as the sun set. On a hunch I decided to try one last thing at dark. All day long traveling back and forth to spots I marked big fish on my sonar holding on rock humps in 30-40 feet of water.
I started thinking about how we could get down to those fish and finally came to the conclusion we need to try trolling crankbaits down to these fish. Trolling became legal last July so I have zero experience doing this for musky but just applied what I know for walleye only everything is MUCH larger. It was a long shot but my gut was telling me I needed to do this. One thing I learned over the years is to trust those gut feelings.
By law we are only allowed one line per angler for trolling so we each ran Depth Raiders about 40 feet behind the planer boards. As I trolled over the humps in the dark at 2.5 mph my buddy had a very hard hit on his rod. I shut down the motor thinking he snagged a rock pile but then the rod started pumping. BIG FISH ON.
It was a good fight but I eventually netted his first musky. Couldn't be happier as this was my only goal on this trip was to help him get his first. Didn't even care if I got one myself. His excitement was way better than anything I could have caught myself. I feel an extreme amount of happiness helping him do this and can't beat that feeling.
Here is Bob's first musky a 45" beauty.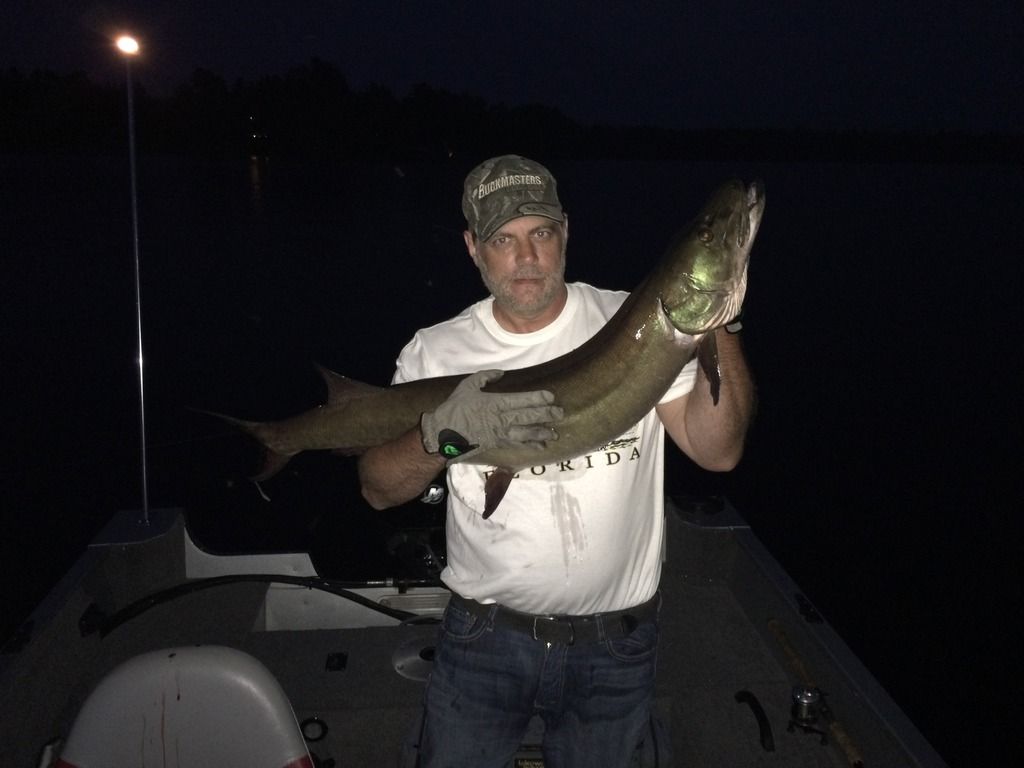 Tonight we are going to target those same deep fish by drifting and vertical jigging with a Bondy bait. Another hunch I think should yield more excitement I hope.
[ Post made via iPhone ]