I was greeted by my lab early that morning. I knew I should have waited to put her hunting collar on and told here we were going out for birds in the morning. Unfortunately a lab has no snooze button.
I woke up and started getting the twins ready so momma could get ready for her basket bingo party. One thing I love about grouse and woodcock hunting is that you can give the birds time to get some scent down. Lol I got Corbin some breakfast, I got the girls ready, got my gear together, got Corbin dressed, and threw my clothes on.
I didn't eat so I made a quick stop for a breakfast sandwich. Well that didn't work because Corb wanted some pancakes and sausage. So we decided to give the birds more time to put some scent down.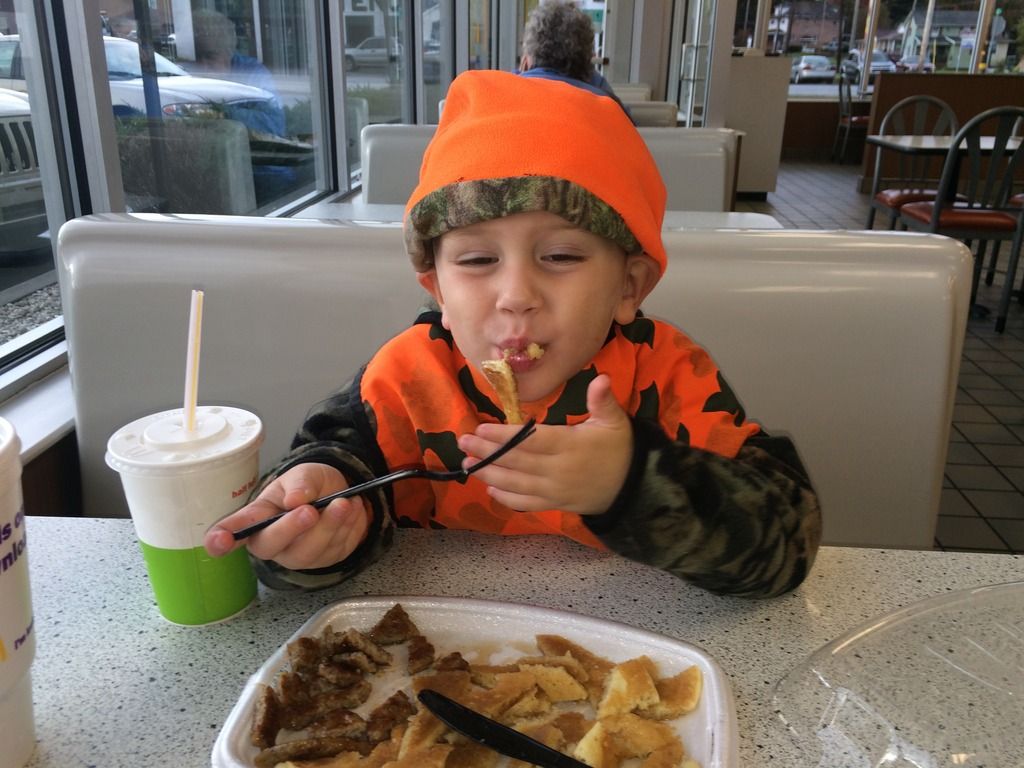 With Corb fed, twice, and the lab going bananas in the jeep I was ready to hit the woods, just then I remembered I had Mommas debit card so back home we went. I then had to carry the girls out to the car and send momma on her way. If you guys could have seen the look Lilly the lab gave me, "what the heck are you doing Dad? LETS GO!!"
We hit the first covert in hope of some woodies. It was an old teclaimed strip mine with some Tamaracks and nice leafy understory. I have put up a lot of woodies in the past here.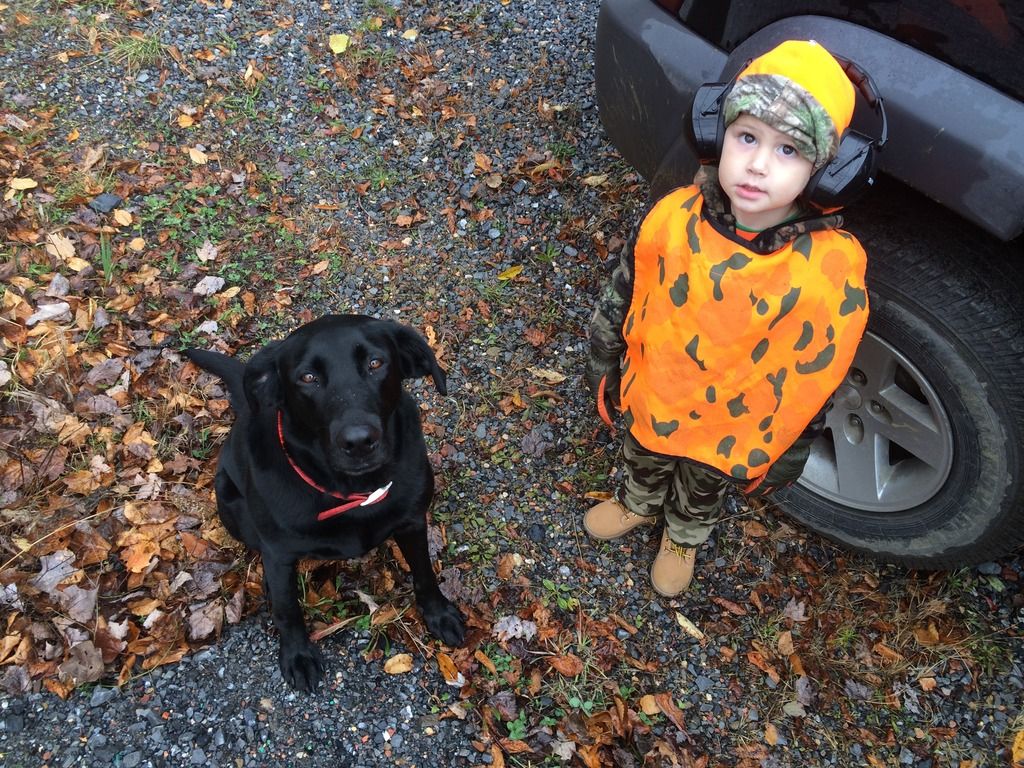 So finally we got to give this a go. Lilly was out and searching right of the bat. Corbin was excited too as he tells me "I'm going to spook the birds like Lilly, DAD!"
We were working and I could tell Lilly was on a bird, I have longed to see this since last January. It was rough to get her to slow up a bit at first. Corb was right behind me and I told him to watch Lilly, he said "I hear her sniffing,DAD!"
I gave her a whistle to try and was her up but she was too pumped. I didn't get to work with her this summer so "whirrrr!" There goes woodcock number 1. Flush was about 30 yards from me so no shot.
"I saw the birdy,Dad!".." It was a wood hawk, Dad!"
I smiled at his excitement and Misnaming of the bird. I whistled Lilly back and told him to tell her good job.
"Good job, Lou, find us some more Birdies!!"
We continued on and up to a section with a few pines close together, Lilly got birdy. I told Corb to get ready but he was too busy clearing the way with a stick.
I looked back to see Lilys head pop up and a big grouse blowing out. I didn't mind as at least this time Lilly was about 20 yards away.
We hunted the rest of that covert and across the road.
We got back on the road and made our way back to the Jeep.
"grouse huntin' is hard work Dad!"
We then went to an area that Lilly and I put up a lot of grouse in the late season last year. There were quite a bit of small trails we could hit up and not go in the thick stuff.
We didn't put up any birds and hit the main trails back to the Jeep. I unloaded and just enjoyed my walk. Corbin was now pretending to be a bird dog, zig zagging and checking bushes. He was following Lilly, I just enjoyed watching my two best friends I the world.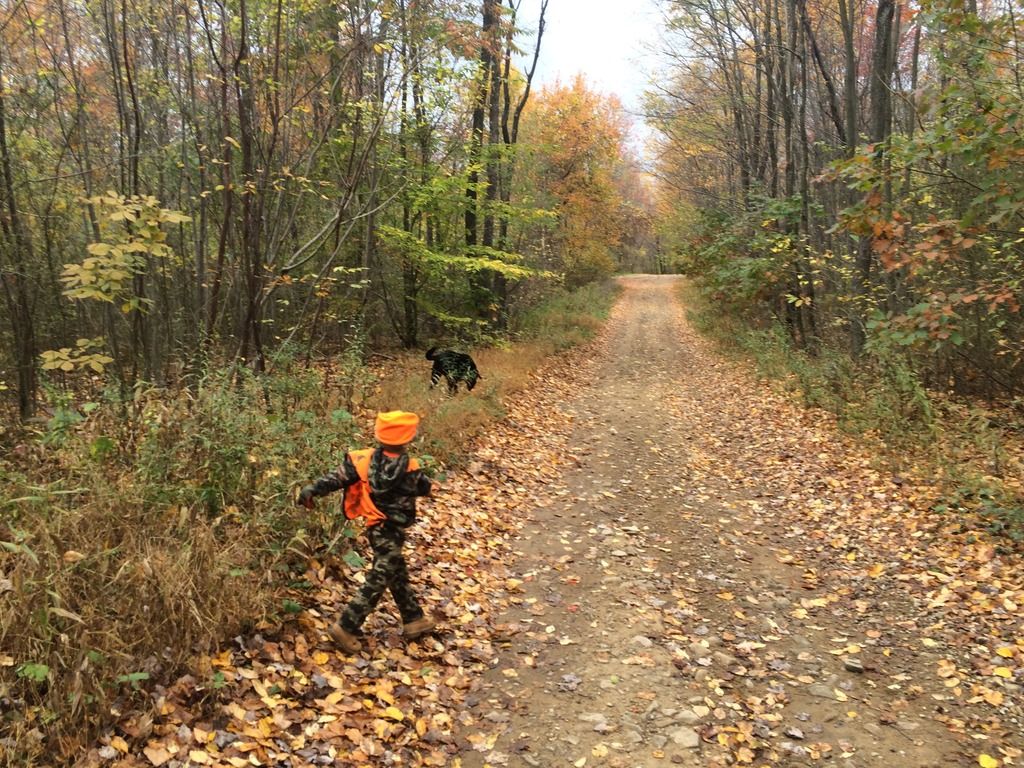 We got into the jeep and I decided we would drive to another Covert on a gamelands about 10-15 mins away.
I looked back as we hit the gamelands road to see this.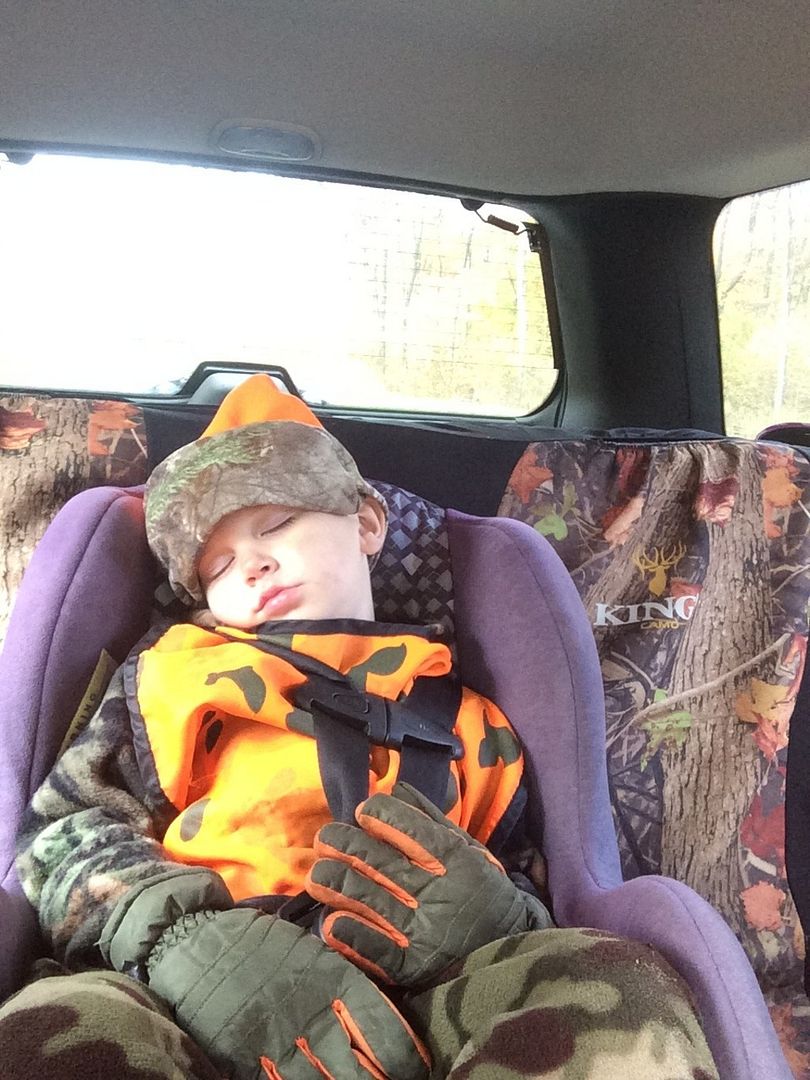 I decided to just drive down the road and take in some Autumn sights.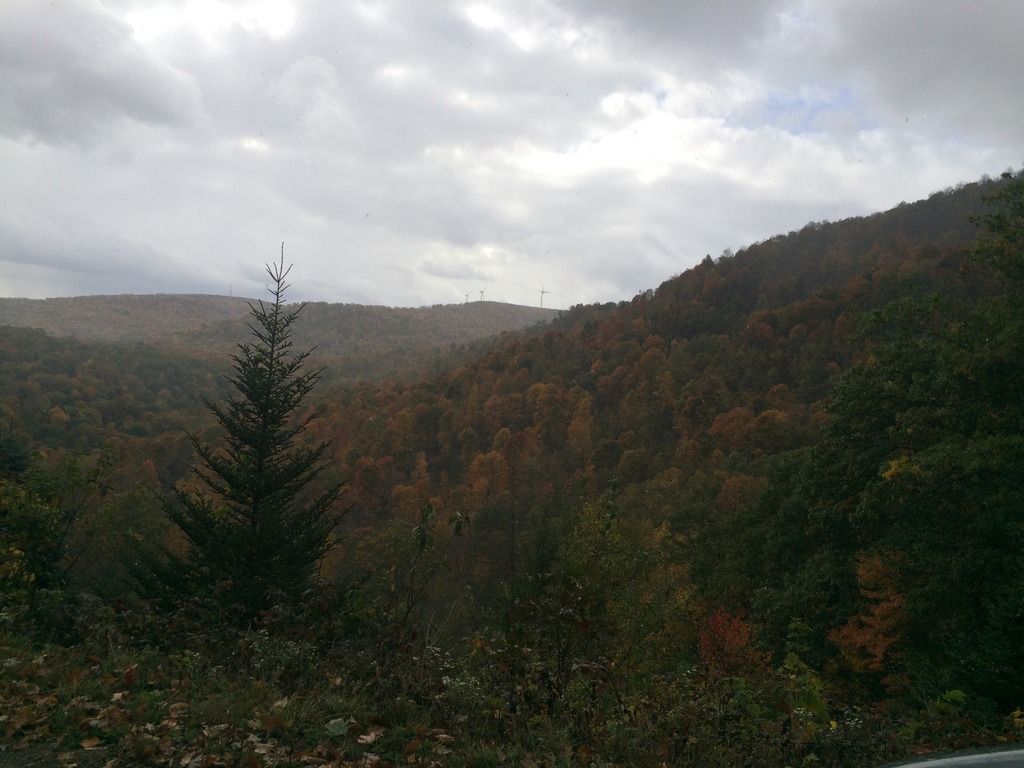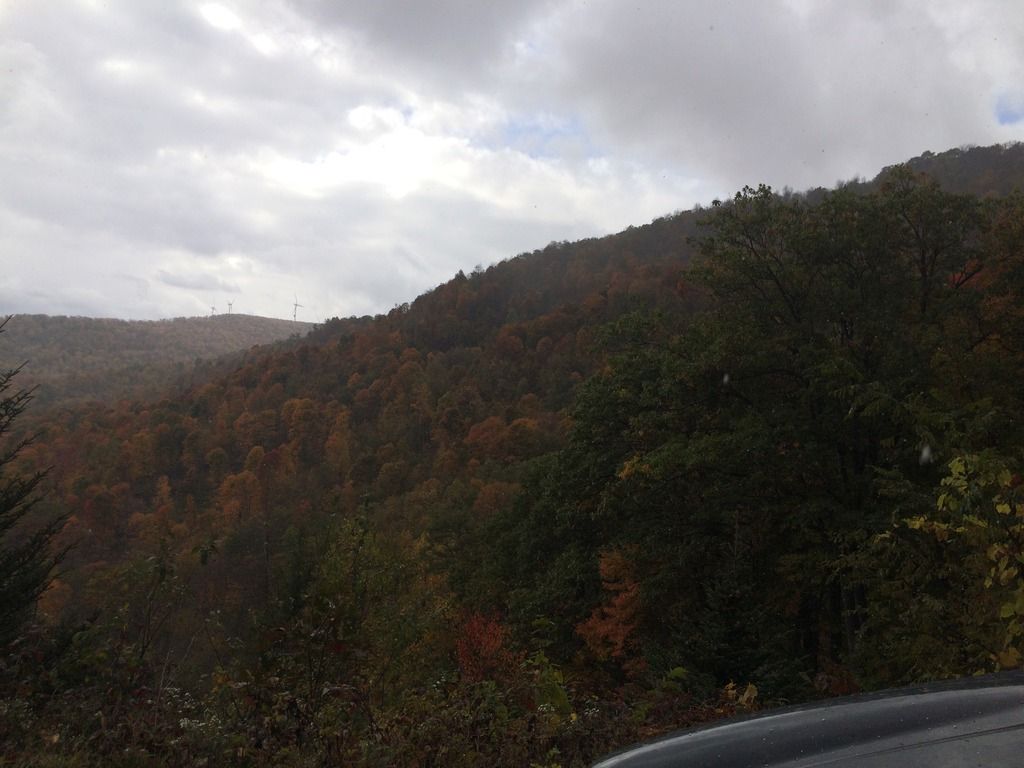 I looked over at Lilly and she seemed to be smiling.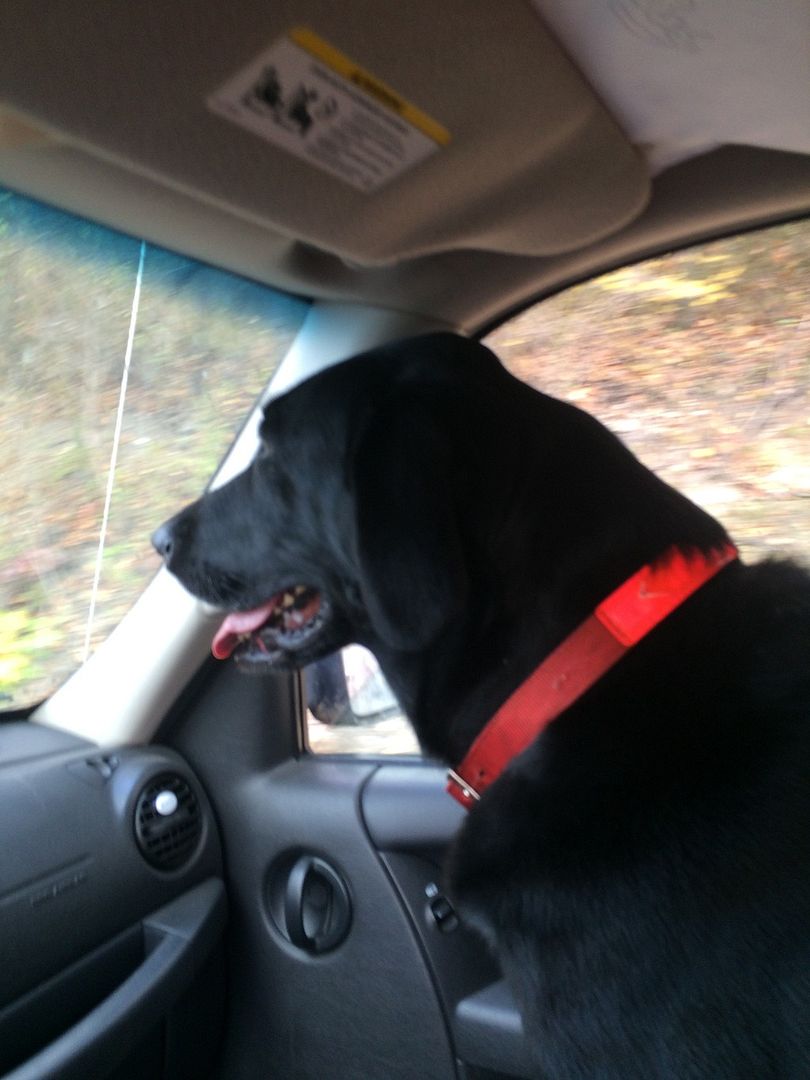 I have had a lot of great experiences in my grouse and wood cock coverts but this one was a lot of fun. After whil Lilly got used to the slower pace and hunted a lot closer. I didn't have to kill a bird that morning to have a heart full of joy. I can't wait to make more memories with my boy, and can only hope that he can shoot a bird over his best friend. Love getting my boy out in the woods with me and he had a blast.