Every year my son has his 2 week Nat'l Guard summer drill. He informed me that the guys and he will use their military issue rain poncho as a shelter but its not all that great. I can see why. It only measures 6 feet by 5 feet and has a hole in the center for your head to poke through. They set them up in a classic lean-to just to keep the rain off them but it sounds like its isnt working well.
He wondered if I could make him a small and light weight shelter/fly. He wants it to be compact so as not to take up much space yet be large enough to keep him dry. Im shooting for the size of a nalgene bottle when packed. Its gotta be light weight since he has to carry everything so Im shooting for less than 2 pounds including stakes, ropes, bag and tarp/fly.
Its gotta set up fast and be waterproof.
Time to go shopping for material and oil up the sewing machine.
I love these hurry up projects.
Just so its clear, Uncle Sam issues these guys each a pretty nice one man tent and we have set it up and it appears the guys in his group don't take the time to go through that effort since they never stay in one place long enough to justify the time it takes to set up and tear down and pack. If its not going to rain, he and the other soldiers sleep under the stars with some bug netting over them so they can get up and go the next morning without too much time spent tearing down.
This rain fly will only be used in the event of rain. Is it a must? Nope. Would he survive without it and simply use his rain poncho? Sure. But my young soldier made a request of his dad. If he request his mom send him some baked treats to augment the MRE's Uncle Sam provides, she would rise to the occasion. This is no different. He asked and I love a challenge in both innovation and time constraint.
OK so I got the needed materials.
5.5 yards of black rip stop nylon
1 yard of 500 denier Cordura (dark green)
1 yard of ¾ inch wide black nylon webbing
1 Spool of UV protected outdoor thread (black)
50 feet of military para-cord.
1 sliding cord stopper
1 Can Atsko silicon waterproofer spray
1 tube of seam sealer
The tent stakes and little bag for them I have from an older pop-up hunting blind and they will work nicely.
Since the rip stop nylon only comes in 60 inch widths I had to sew two pieces together.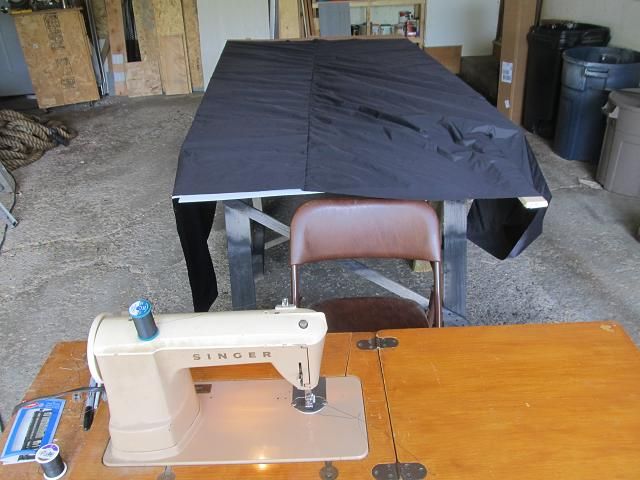 Once hemmed it comes out 8 x 8.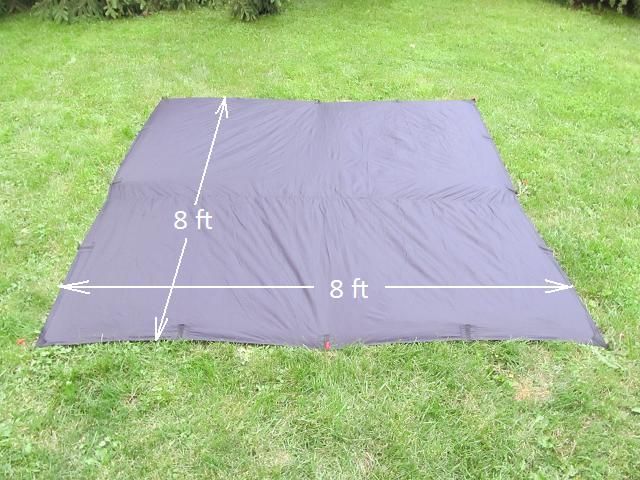 I added 16 nylon webbing pullouts (every 2 ft) to maximize the options in terms of how this shelter can be set up/configured. I added two more layers of ripstop nylon to strengthen the stress areas.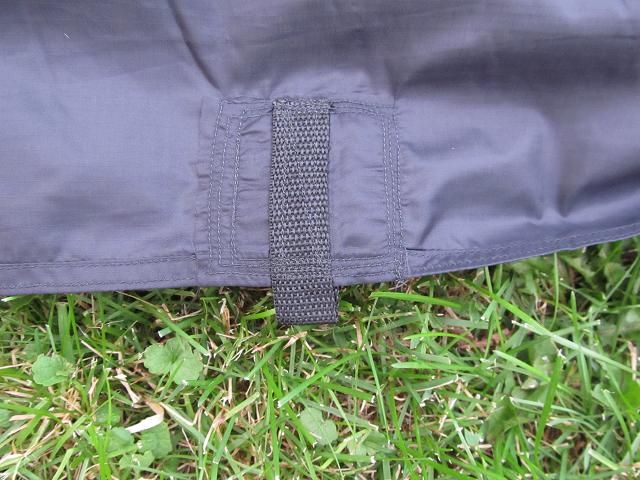 Near one corner I sewed in a small patch of Velcro for reasons that will be explained later.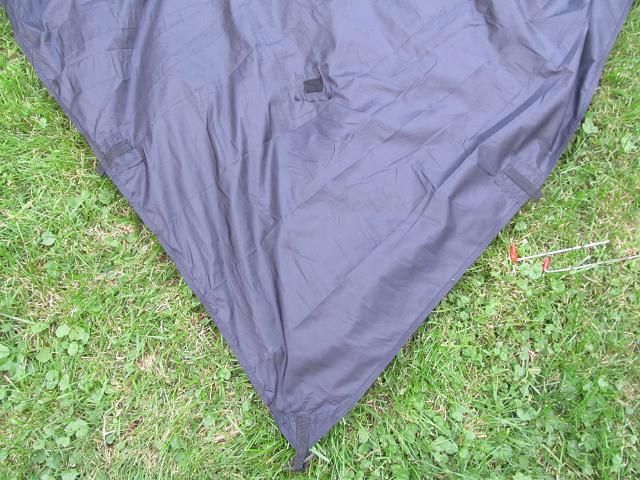 I need to seal the seam and spray it with silicone waterproofer. The 8 x 8 square weighs about 8 Oz.
FYI, If you do not have a soldier expressing an interest in a rain fly but perhaps you travel out west on an elk hunt or up north in the national forest and are looking for an simple and light weight shelter, consider this a bowhunting bivy shelter and not a military shelter. View it in any way that brings you solace and if it sparks an interest, do with it whatever you like.
Now that I am done with the makeshift table he has taken it over to organize his gear. This is only "Some" of the gear.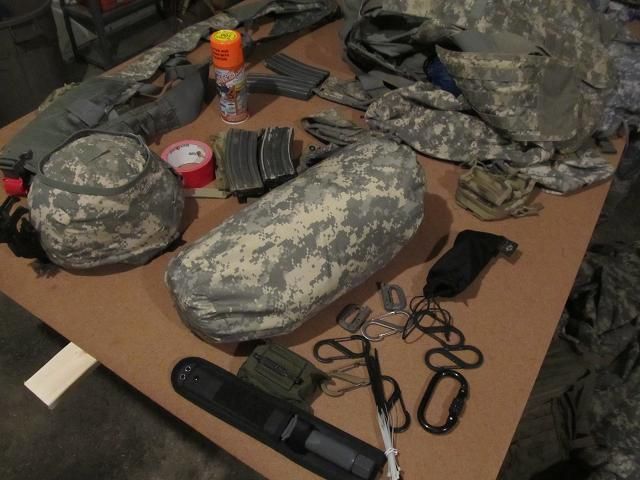 As I mentioned I have 8 wire tent stakes from an old pop up blind and it comes with a little bag for them. The only modification we made was to add red tape to the ends of the stakes and to sew a small patch of Velcro to the bottom of the bag for reasons that will be made clear soon.
With the seam sealer and waterproofing dry I thought it would be good to set it up so he could see a few of the many ways this shelter can be erected based on the conditions. One of the simplest ways requiring the least rope is a diamond fly. I taught the wilderness survival merit badge for several years for Boy Scouts and this was my favorite shelter because of how fat it can be set up.
You find a stick that is a little less than chest high and place the tent stake bag over the end with the velcro patch facing up.
Than you align that velcro patch with the patch sewn into the tarp and stake it out tight with the ground point facing into the wind. You run one rope to either a nearby tree or a stake in the ground. THr beak acts a rain fly.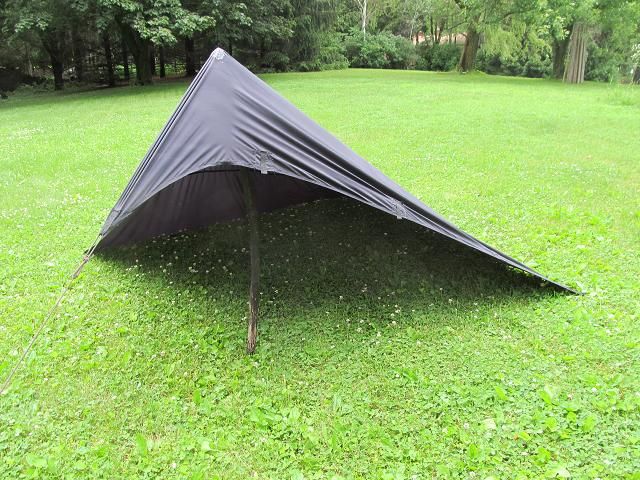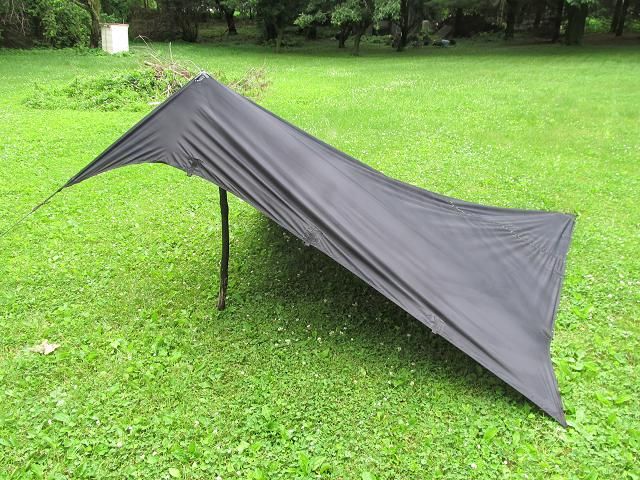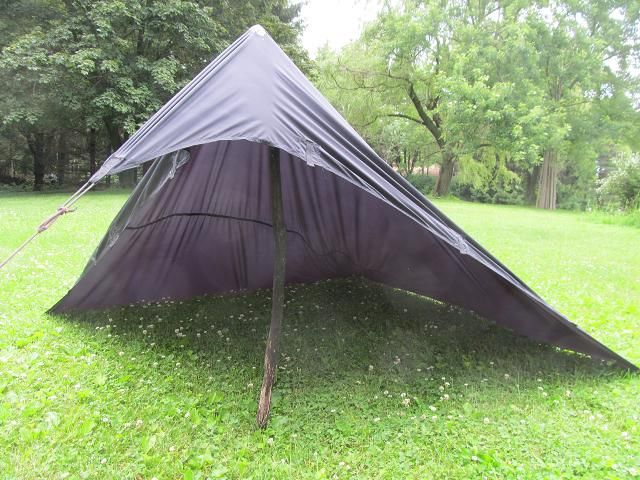 Here are a few more simple configurations.
"A" frame. Its 8 feet long and 5 feet wide at the base.
"A" frame with an awning.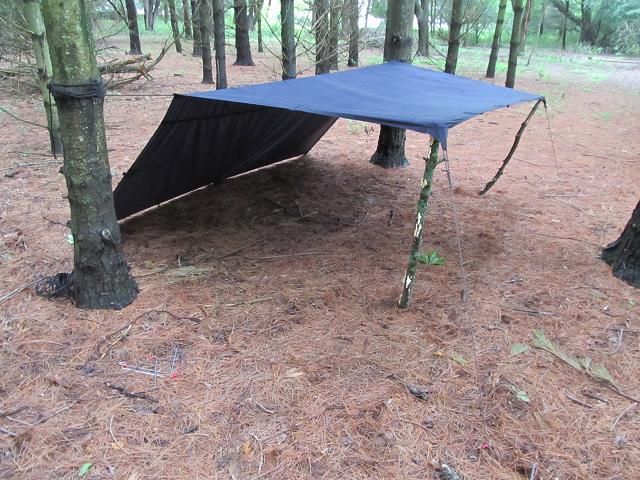 "Lean to"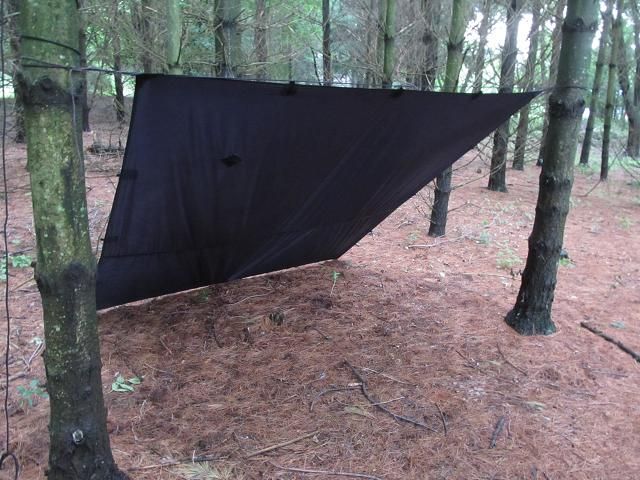 Lean to with side flaps for wind driven rain.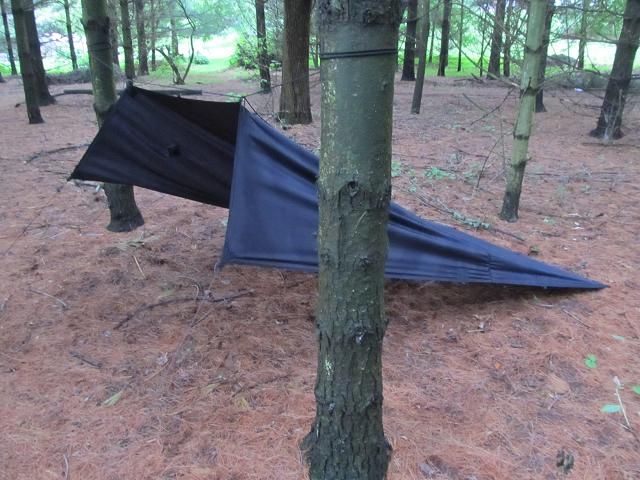 I was losing light fast and a rain storm was approaching and the skeeters were sucking me dry so I stopped at that number of configurations. There are lots more ways to set this square tarp up. Here are some pics I stole from the web. Your only limited by your imagination.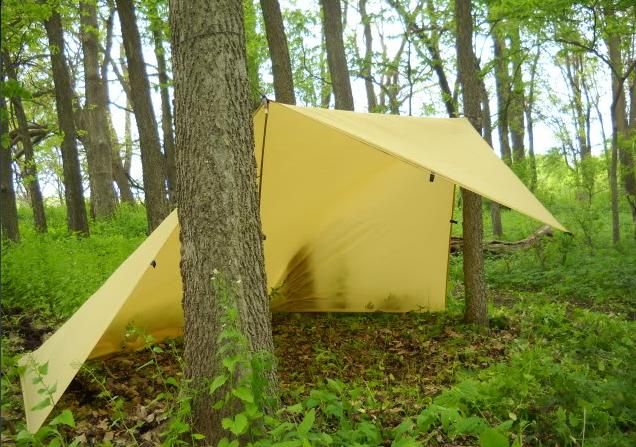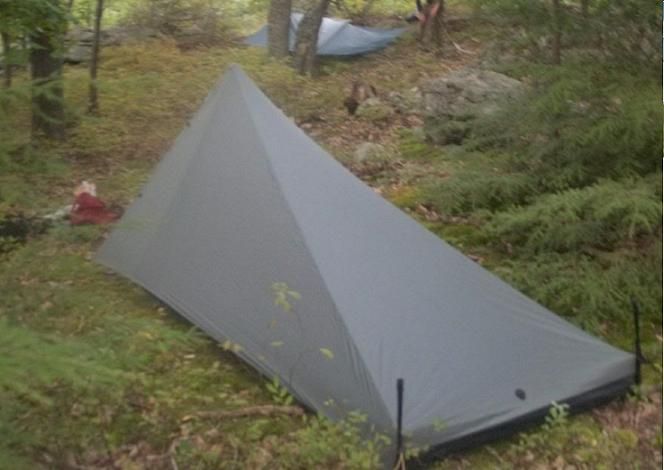 I wrapped up the tarp and the stakes and 2, 12 foot lengths of Para-cord and the tent stake bag and came up with a size for the storage bag. I sewed it from 500 Denier Cordura with a poly coating on the inside. I added a cinch rope and stopper. Then I waterproofed the bag.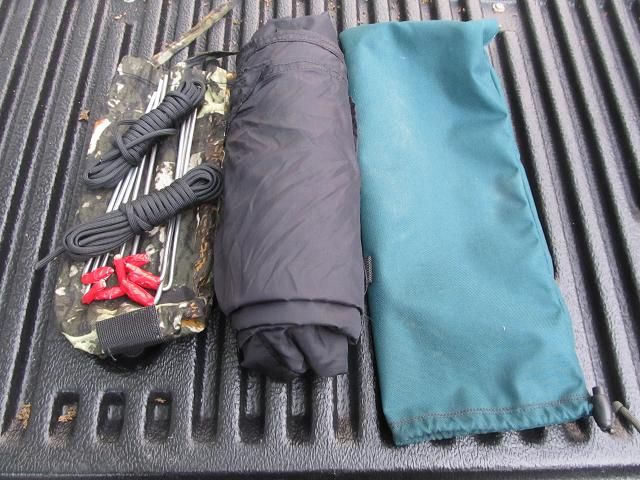 I added a webbing loop to the bag so it can be hung from his pack or stowed in the pack.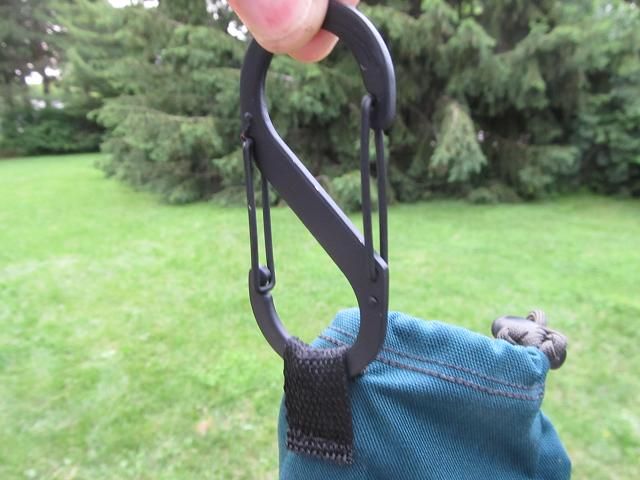 I made the bag a little big in case he wants to add more rope or stakes or a ground cloth and anything else. The whole thing is about the size of a Nalgene bottle and weigh about a pound and a half.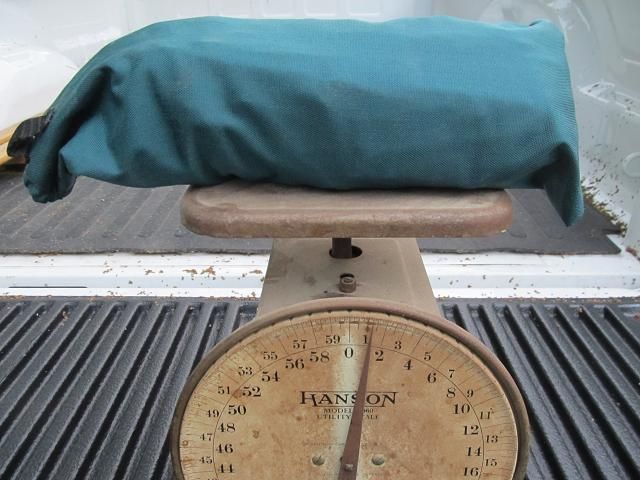 I mentioned that the Army does not issue such a shelter so the guys use their rain poncho. I learned that this type of shelter is issued to Marines and is called the USMC field tarp. It measures 80 by 90 inches where the one I just made measures 96 x 96.
http://www.adventuresurvivalequipment.c ... aulin.html
It was a fun project and I hope he finds it useful when needed.