500 Club
Posts: 1447
Joined: Thu Mar 11, 2010 5:34 am
Status: Offline
In my opinion one of those most tactical big buck killers there is. No luck involved with this guy. Hard working, disciplined, super throughout kills. How do you not get inspired by a guy like Joe.
Posts: 189
Joined: Thu Aug 09, 2018 4:01 pm
Facebook: Kyle Rentmeester
Location: Wisconsin
Status: Offline
Posts: 66
Joined: Thu Jul 26, 2018 1:34 am
Status: Offline
Really appreciate your write ups. Great season indeed !!
Posts: 137
Joined: Sat Aug 20, 2016 5:36 am
Status: Offline
Always pay attention when Joe posts. Impressive on how efficient you are!

Beast mode.

Thanks!
500 Club
Posts: 1769
Joined: Tue Oct 15, 2013 9:44 am
Status: Offline
Ridgerunner7 wrote:In my opinion one of those most tactical big buck killers there is. No luck involved with this guy. Hard working, disciplined, super throughout kills. How do you not get inspired by a guy like Joe.
Couldn't have said it better myself!!! Truly inspirational and one guys I really look up to in the world of hunting. Great stuff Joe and your hard work shows buddy.
500 Club
Posts: 4578
Joined: Thu Oct 18, 2012 5:26 am
Location: IA
Status: Offline
Thanks for the kind words everyone. This definitely was a season with extreme highs and lows...
A few answers for questions:
Jonny wrote:Awesome job Joe!

Still rocking the coyote vest and bucket hat I see
Yep, will admit I get some perverse kind of pleasure in hunting in that stuff versus draping myself with hundreds of dollars of name brand camo, but its effective too. I am certain that floppy hat breaks up the shape of my head way better than a baseball style hat, and fur is warm of course but also is the quietest material ever, no man made fabric comes close. Also, when a deer gets downwind the mixture of coyote and human scent makes them more likely to spook off quietly I have noticed - not snorting. Some interesting advantages.
Jackson Marsh wrote:That was a fun read Joe. Congrats on a couple of dandy bucks.

It's a bummer about the wounded buck....but without the lows of bowhunting I'm not sure the highs would be as sweet. I doubt many guys would have put in that type of search effort. Hats off to you.

Were you able to hunt Wisconsin for a few days?

Congrats on a great season.
Yea, I made it up there for another 3 day rut hunt. That could have been another chapter but I figured I wrote enough. I passed a couple tempting younger bucks but didn't get a chance at a big one. I had a pack of 4 wolves come in hunting me (no other way to describe it, that is clearly what they were doing!) after I grunted at a buck in the distance - that was freaky! First wolves I have seen while hunting. They circled down wind and hit my scent when they got about 50 yards out or it would have got real interesting. My yote coat wasn't enough to make them want to stick around
Anyway, the trip was definitely a success because my buddy shot a beautiful 9 pt - almost a 10 - on our second day of the hunt in a rut travel corridor where a tag alder swamp finger, open hardwoods, and a 5 year old clearcut all neck down together, kind of a classic northwoods funnel that I would have probably never even noticed say only 5 years ago. We found the spot a couple years ago, and I put a camera there last year. It got consistent cruising in late October and early November so he went in for an all day and tagged a mid day cruiser. Annual patterns strike again.
Maybe I will get to the point where I can expect a opportunity every year in an area like that on a 3 day hunt but I am not there yet - if one of us does, that is good enough to me for now. Scouting and building our knowledge over the last few years has been a team effort. Each year we make one or two scouting trips and find another really great spot or two that seems to have big bucks around almost every year. Even though the terrain and deer density is much different its remarkable to me how similar deer hunting is where ever you go, places where deer get pressured anyway - you can consistently find the big boys in maybe 5% of the total area. Hunting in the other 95% is a waste of time if you are looking for a nice buck.
Buddy's buck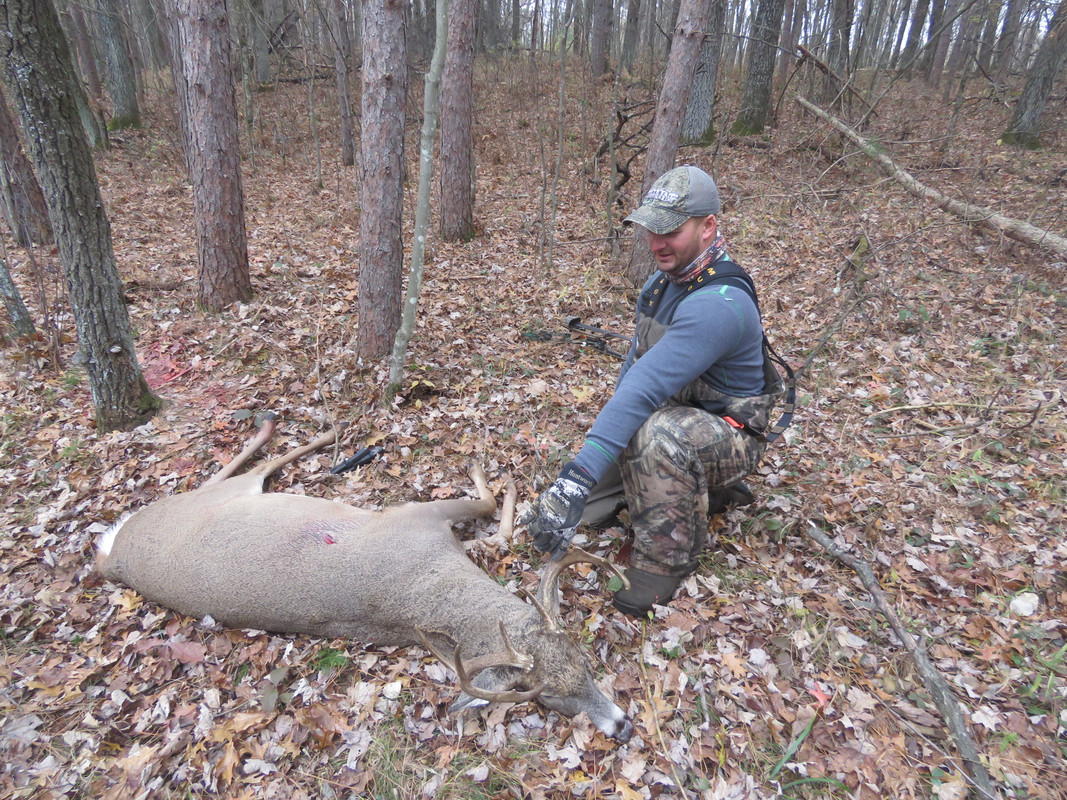 One of the younger bucks I had come past me up there, a 2 year old by his body just a little small in the rack department.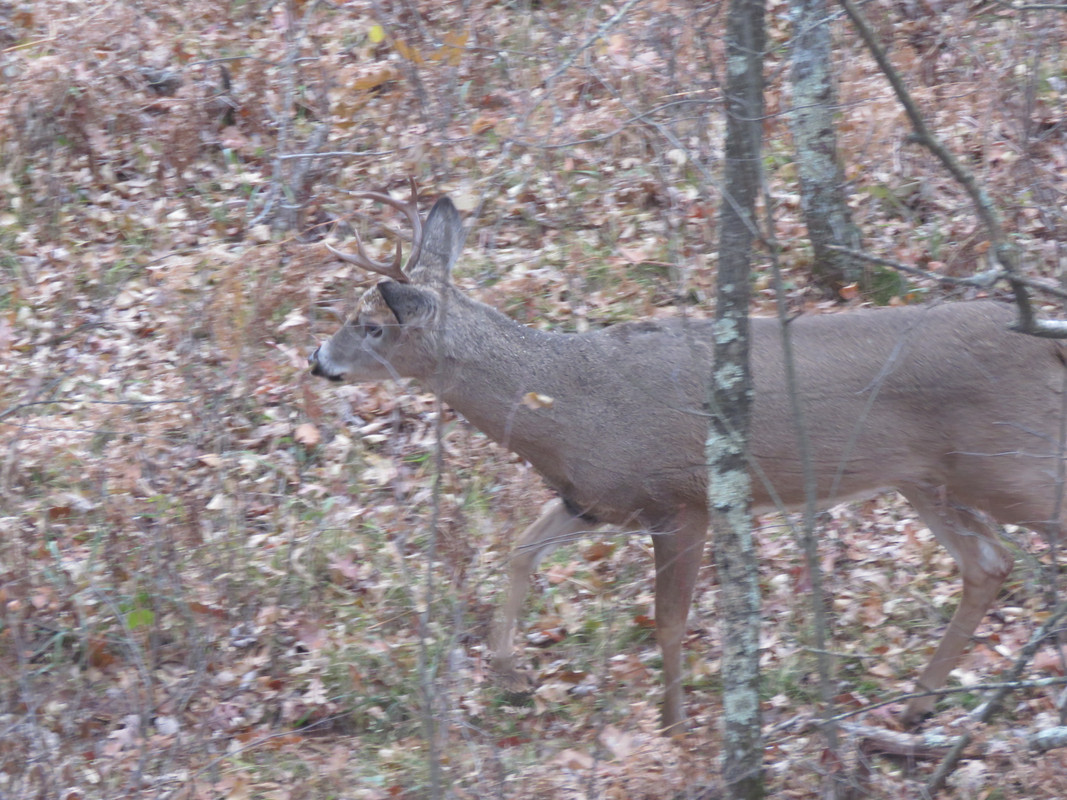 Sign from one of the big boys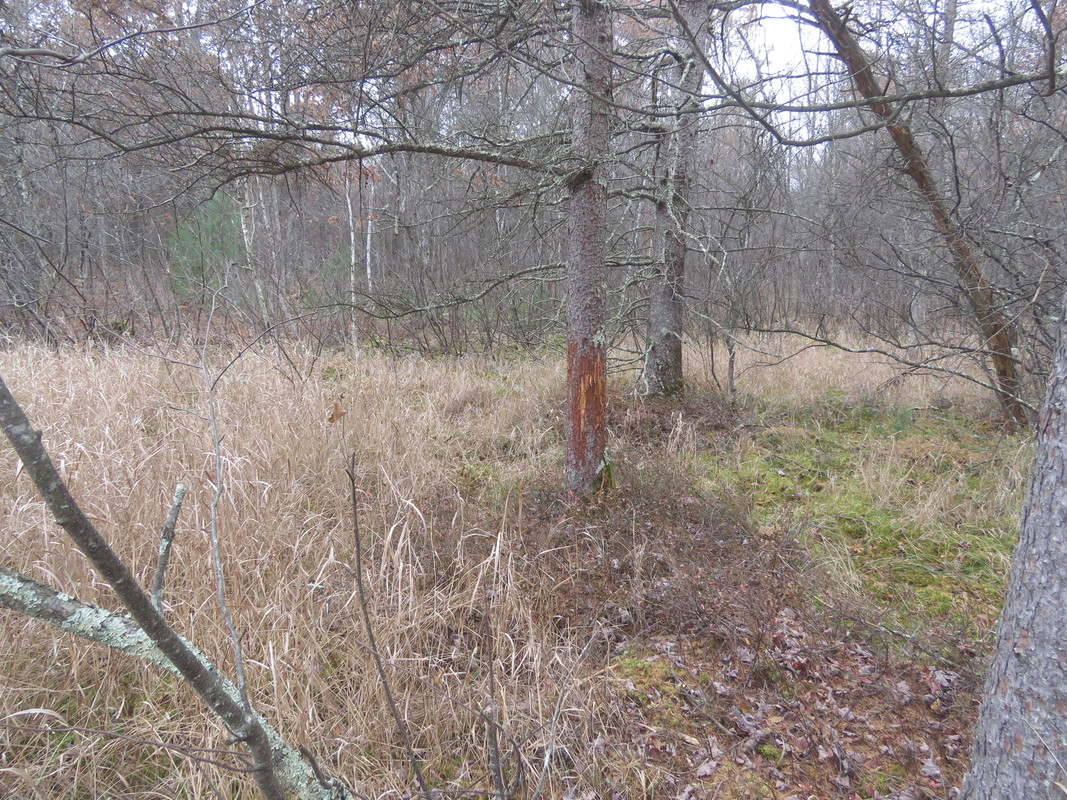 Moderator
Posts: 14776
Joined: Tue Aug 17, 2010 3:11 am
Location: SE WI
Status: Offline
Congrats to your buddy joe. Having wolves that close had to be interesting. ....
Posts: 110
Joined: Wed May 29, 2019 5:19 am
Status: Offline
Congrats on your season, Joe! I've learned a lot from you reading your posts and listening to your podcast interviews. Couldn't help but read the chapters of your season in your deep voice.
---
Users browsing this forum: No registered users and 3 guests