Here is another story, more to come...
Slowly scanning the timber before me, my eyes became fixated on the large yellow-colored spot worn raw on the stout pine tree ahead; there was no missing the giant rub nestled just above the heart of this tight bottleneck. I could certainly tell this was the handiwork of a big, mature public-land buck. I followed the faint deer trail with the large tracks past the rub and away from the double bottleneck through a tangle of greenbriar searching the high point overlooking the hollow. It was covered in buck sign: big tracks and rubs were everywhere. There was no mistaking that this was a perfect bedding site for a mature buck, offering an excellent vantage point, consistent winds and multiple fingers as escape routes.
I went back the following year to look for sheds up there to no avail and snapped a photo of the rub to add with my buck photos of his.
Ten months later found me hunting that very location for the first time on a rainy Halloween day. An all day sit in the rain had been slow, no whitetail sightings. Although, these days do not get me down, when I am hunting a bed I don't care to see anything other than my target animal. Then... Just before dusk, movement caught my eye as a blocky body moved through the greenbrier above toward the bottleneck leading from the high point bedding site. I could plainly see tall tines coming directly at me; the buck closed the distance to his scrape located in the very center of the funnel and proceeded to destroy it. As I hoped the buck decided to not keep coming directly toward me but decided to take the saddle leading him SouthEast to the other hill side and broadside to me. Seconds later a well-placed arrow ended a very successful public-land hunt.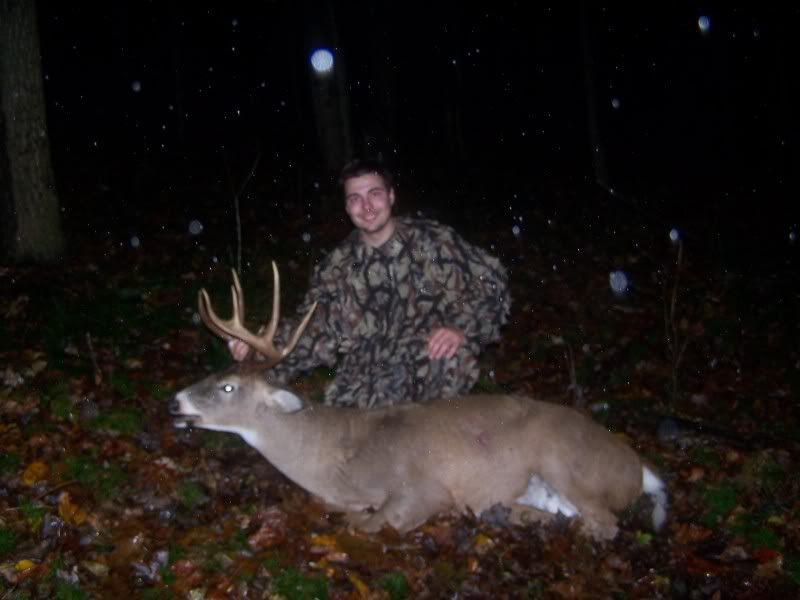 I had many hours studying the topo maps of this location before I ever set foot on it and this tight little bedding and double funnel location did not show on the map due to this being reclaimed strip mines. The topo below shows that map hid this gem from me. Had Google Terrain been in existence back then (2006) this setup would have been glaringly obvious. The highwall drop off strip pits both flow along and about 20 yards of earth was left there, I assume for the equipment to get in and out. Also what I called a saddle above is another 25 or so yard wide swath of earth left that connected the two hill sides. It came together at this location like a 3 spoke hub.