"A Buck for Grandpa"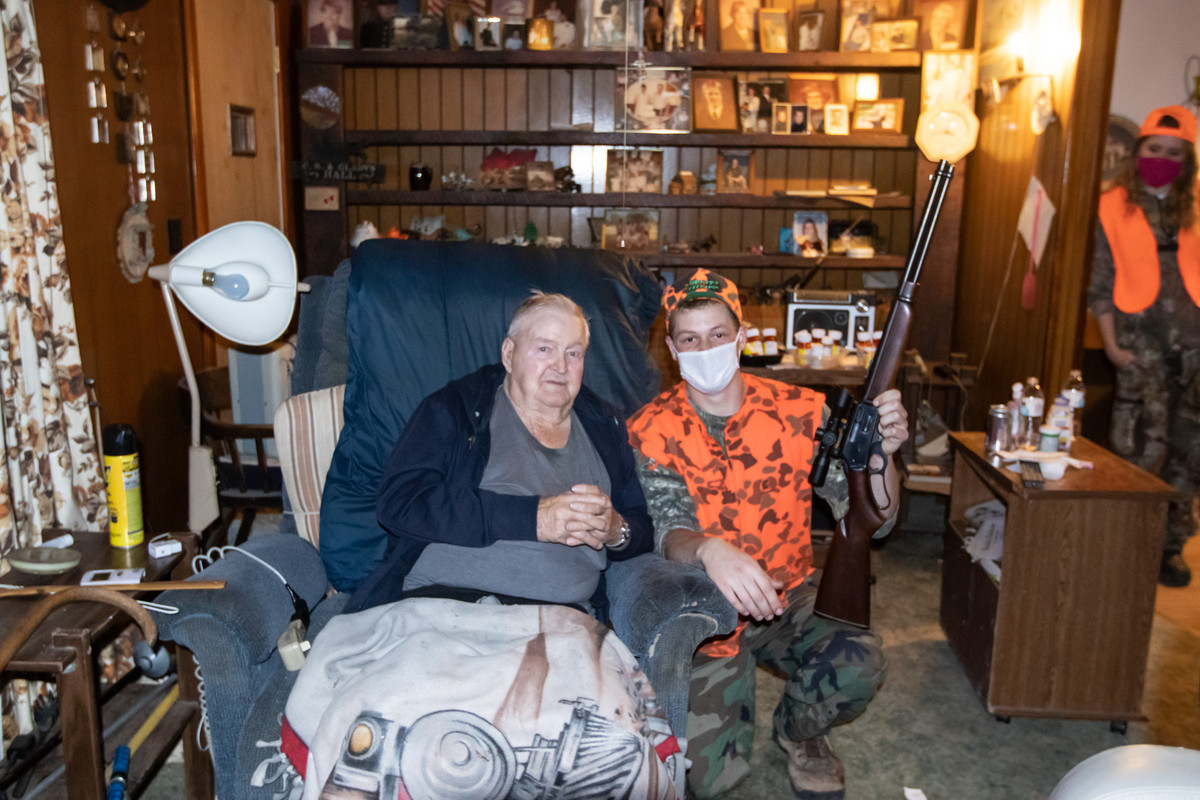 A few years ago, Grandpa was a few years retired from hunting and decided it was time to pass on his main hunting rifle. A Marlin 30-30 that to many is nothing special. But to me is the most valuable firearm in the world. It had been my Grandpa's faithful companion for over 50 years and had helped him take 86 deer in that time frame. For him to tell me that he knew that I would "know what to do with it" was a great honor. With every ounce of my being I wanted to get a big buck for him with his rifle. He is 90 now.
For those who want a short version: Grandpa tells me about big buck, I hunt him down and shoot him with Grandpa's rifle. For those who want more, the following is the long version. As hard as I tried to catch up with this buck with my bow. Im glad it happened the way it did.
Sunday 9/27
9AM ish? Got some scouting in on Grandpas Woods, got some good intel. A big buck had been through, I followed him back to a known bedding area. I believe he only beds there as an "opportunity" rather than often. It is adjacent to a bedding area. I'm gonna hit this spot right before the guns come out. He bedded under a large blowdown, in an area where I have bumped big bucks before. Never really decided to go in and investigate until now.
Quite frankly I didn't give a rip if he was home. I wanted to know what was happening...
Here is the track...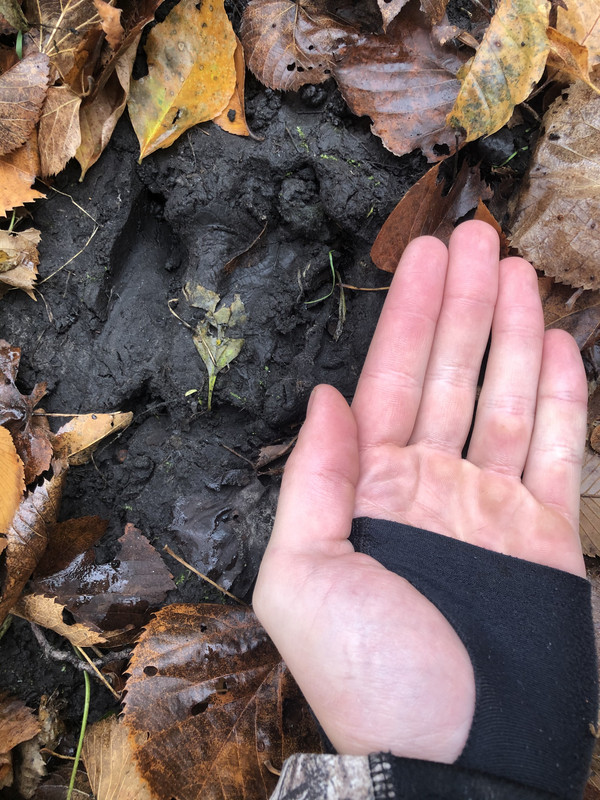 Thursday 10/8
Thursday evening Grandpa called me VERY excited and told me that a big one has shown up, and that it might be the one leaving the big tracks! (Grandpa was right) I got him on camera!! (From this point on, every move in the chess game with this buck was called in before and after to keep Grandpa in the loop. He knows this woods like the back of his hand, and loves to hear the adventures!)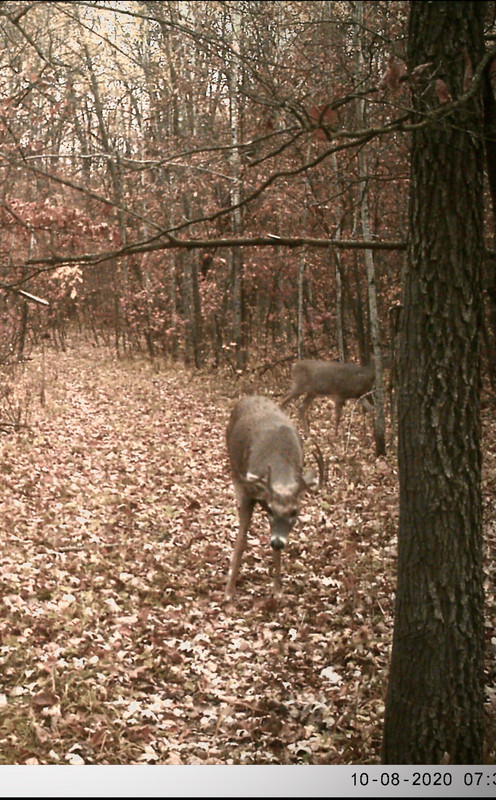 10/17
Passed on a 100" 8pt, told grandpa, he told me I was CRAZY, maybe crazy enough to get the big one, maybe crazy enough to get nothing. Cross off bedding area #1
10/18
Crossed off bedding area #2, Passed two spikes.
Saturday 10/24
I got my eyes on the buck grandpa had seen from the stand. Great chasing and fighting/ pre-rut action out in the small field. Narrowed it down to bedding area #3 or #4.
11/1
Big Buck sighted in the ditch near where I parked, time for a new approach! Cross off bedding area #3 did not see him from stand.
Saturday 11/7
Rifle Opener. It was my girlfriend's first year hunting with my family, and she told me she would be happy with ANY deer, so she was up to bat! We snuck into a great bedding area and got situated, she has been scouting with me and practicing her shot. Girlfriend scored on her first deer! I was very proud!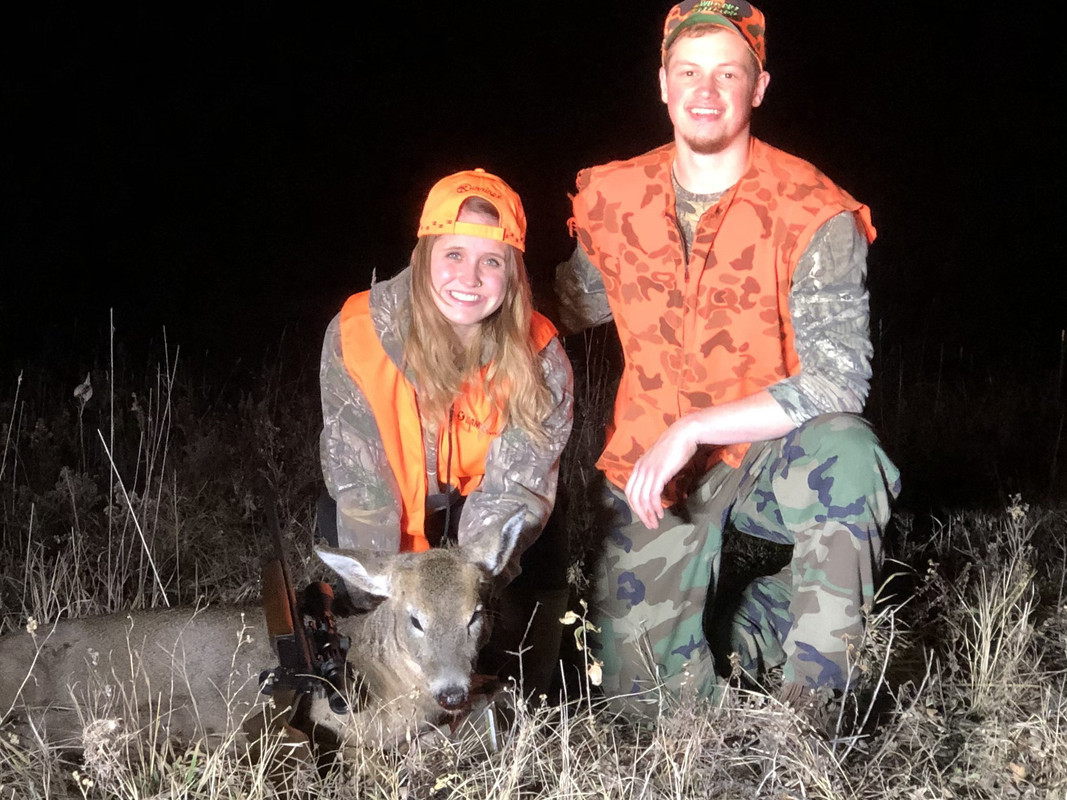 Sunday 11/8
The wind shifted, and we had a HUGE temperature drop!! What a great way for the deer hunting gods to show me kindness, time to hit the final bedding area for Grandpa's Buck! Everything was right, the wind, the rut, gun pressure. I kept this card in my sleeve all season and it was time to play it!
We snuck in to the bedding area, and set up on the ground tucked into a deadfall.
Shortly after getting set-up, I hear my Dad shoot. (Turns out he missed)
About 30-40 minutes later I hear a grunt and then some leaves crunching behind me. I knew in my bones to get turned around and ready to party. I see the buck's antlers coming into the back side of the bedding area on his "J Hook" route. As soon as he hit the trail I had an open shot and sent one into his chest, he took a few steps and I got another opening and put one into his shoulder. He keeps heading for the bed, but he did not make it. I heard him crash.
I got up and RAN over there. Shaking like a leaf. As I walked up on him, I hit my knees, thanked GOD, and gave Grandpa a call. I did not even say hello, just "I got him."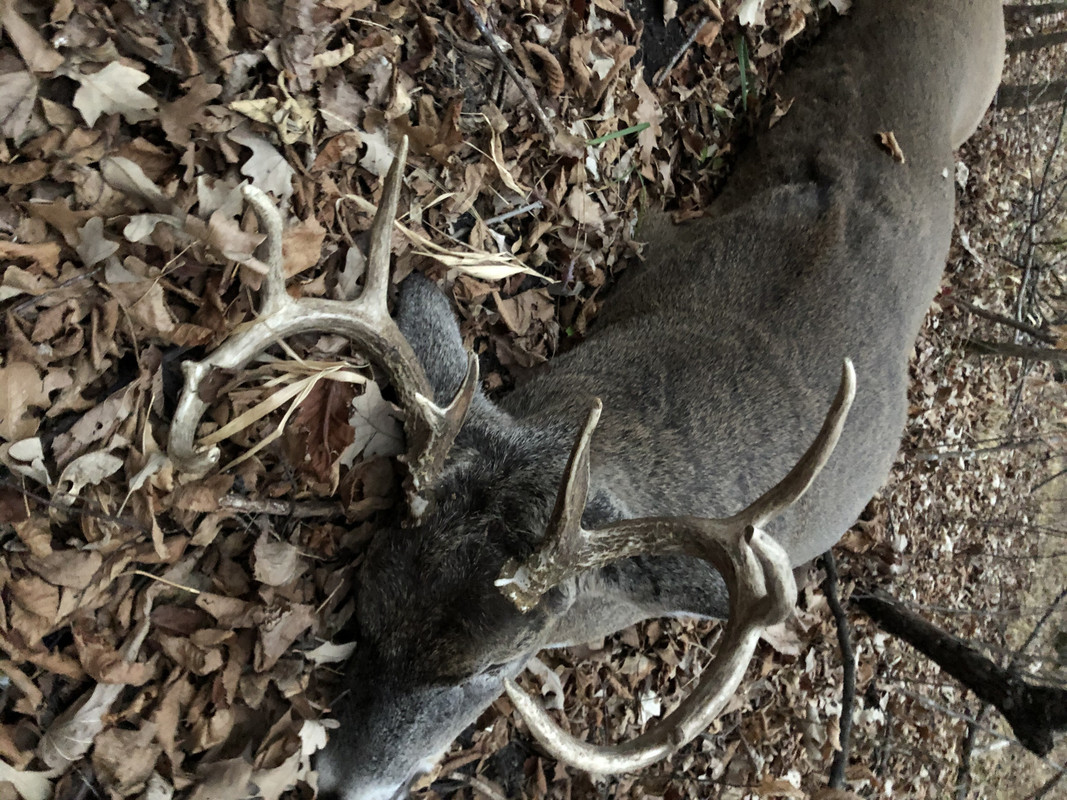 I gutted him, loaded him up and drove him over to Grandpa's. I backed him right up to the window for Grandpa to confirm it was the one.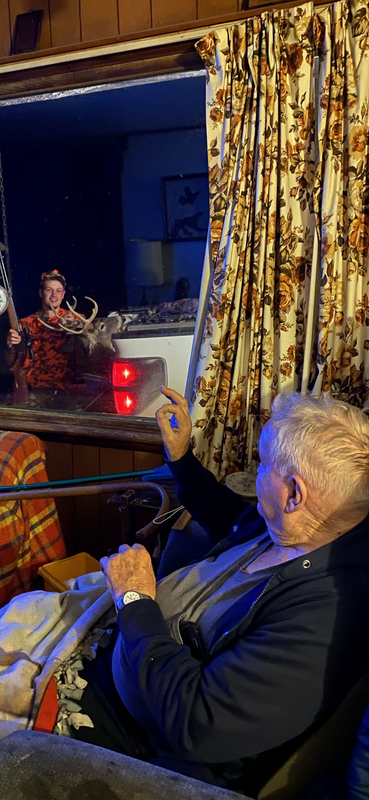 As soon as I got in the house he said. "It's not bigger than mine." He was right, its not.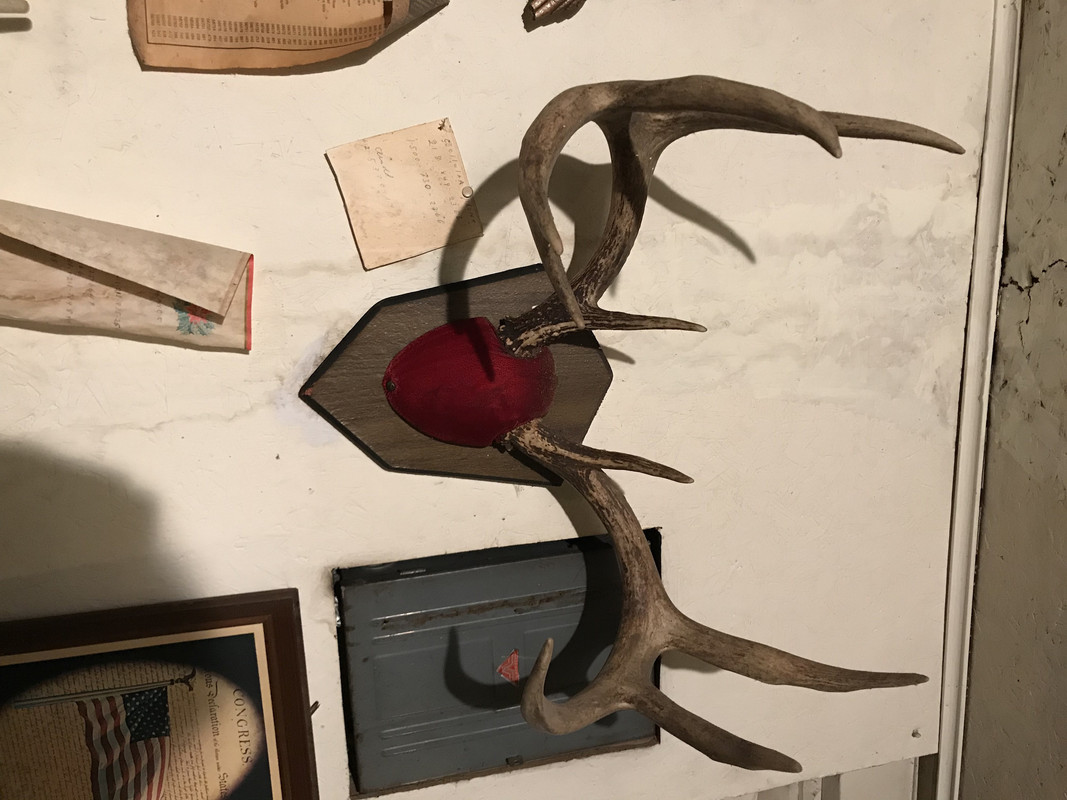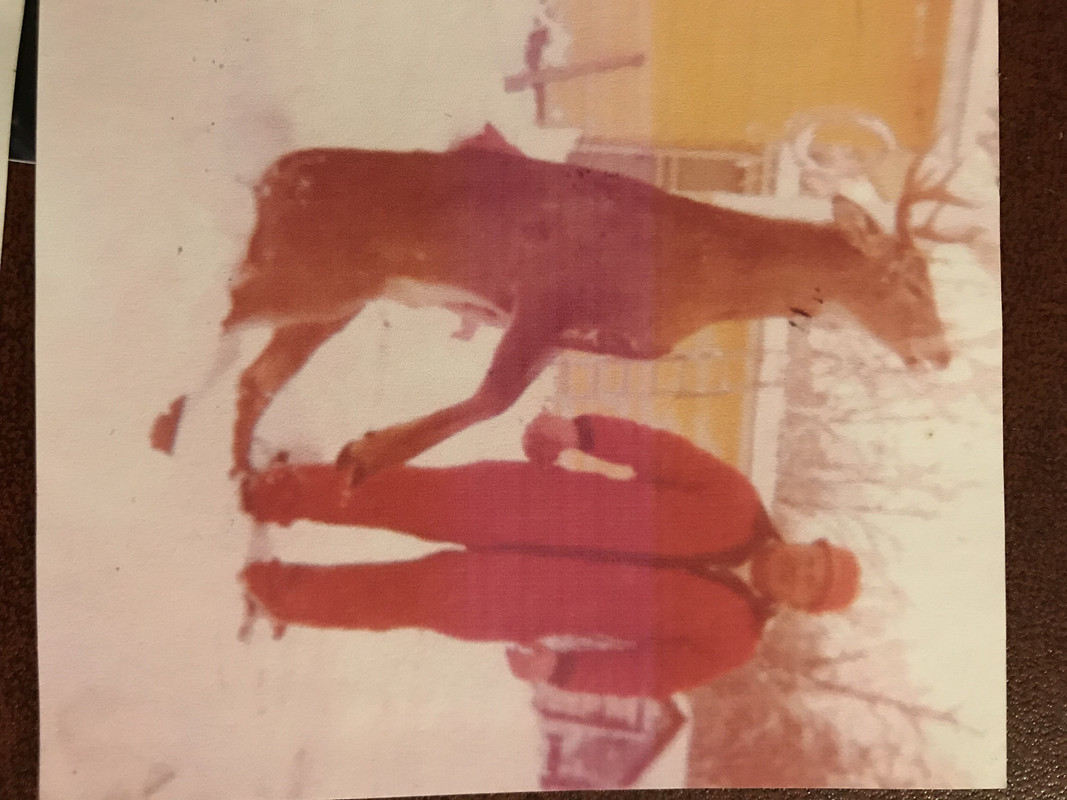 Grandpa was very proud and really got a kick out of his recliner in the woods!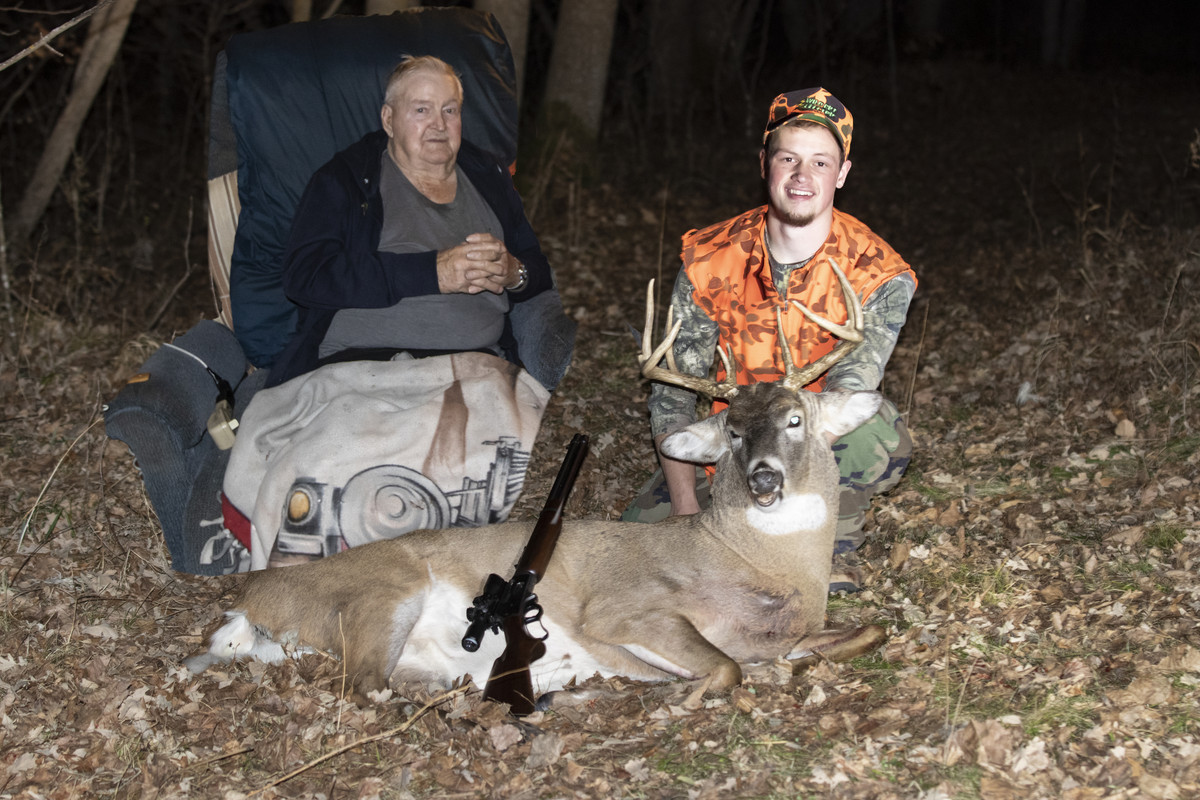 This was a TANK of a deer, and weighed 280 dressed!! Definately my biggest buck (SO FAR) and extremely special, for me to use Grandpa's 30-30, in his woods, and hunt him down. This buck tought me SO much about big bucks. I had just enough luck as well.