Just got back from Ludington - Lake Michigan Salmon Trip. Went up with three neighbors; Ron, son James, and Tom. James just graduated from Ferris State Police Academy and started a job as a Holly Police Officer (I think I am almost as proud of him as his parents). I had the pleasure of seeing James grow up from about age 4 we have been neighbors. Ron is a UAW worker and Tom is a retired butcher. We fished with a retired UAW worker (Gordie) who has a well equipped and really beautiful boat - 31' Tiara. Don't worry I wont give height and weight of each of us, just length of the boat.
Anyway back to the fishing. Left Saturday morning and fished that afternoon, sunday morning, Sunday evening, then again Monday til about noon. We did not kill them but had a great time, good weather and good company makes a trip as much as anything, and since a week ago Sunday having an incident on Lake St. Clair, where me and two friends almost went down on a 18 foot bass boat, I think I will look differently on fishing in the future. The old saying a bad day fishing is better than a good day at work will be replaced by me to " if the boat don't sink, and you don't get skunked that is a good day".
We started off the first trip straight out of Luddington till we hit the break. Surface temps were around 68, and Gordie was looking for 50-53 degree water for the downriggers, although we had lines scattered throughout the column pretty good. We were running 12-13 lines; 3 downriggers, two dipsies each side, then 2-3 planer boards per side. We caught a mixed bag of King, Coho, and Steelhead.
The report from Gordie the week earlier were the fish were scattered and you had to work to find them, but the fish being caught were big 20-25 lbs. Well for our trip the fish were scattered and some little ones to boot. We caught exactly four fish each time out not counting the shakers (lil ones we through back).
Saturday had some action, but lots of little ones. Sunday we were out of the harbor at 5:30 and Gordie worked hard, it took 7 hours to get our 4 fish. Sunday night we were skunked til probably 9pm till we got a late flurry, James caught a 20 pounder, and we lost 2, but got our 4 by sundown (~9:30pm). Monday we went back to work that area we had good action Sunday night. We missed 3 good fish, but got our 4 fish. The four fish became the theme of our trip by Sunday night, because as we were sitting skunked I spoke up to say we will be cleaning four fish tonight.
Here are some pics.
Heading out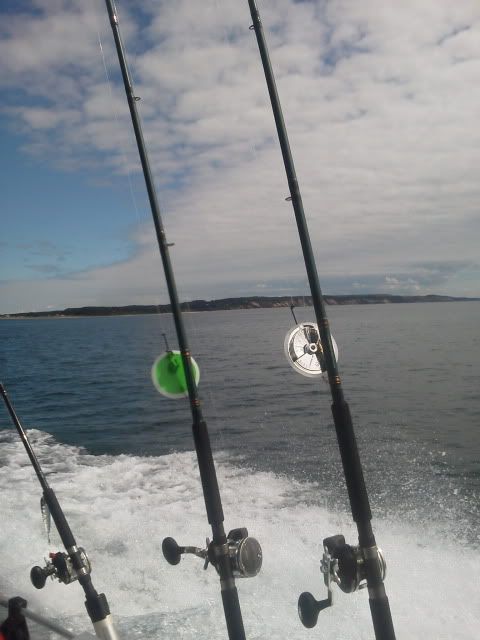 James' first fish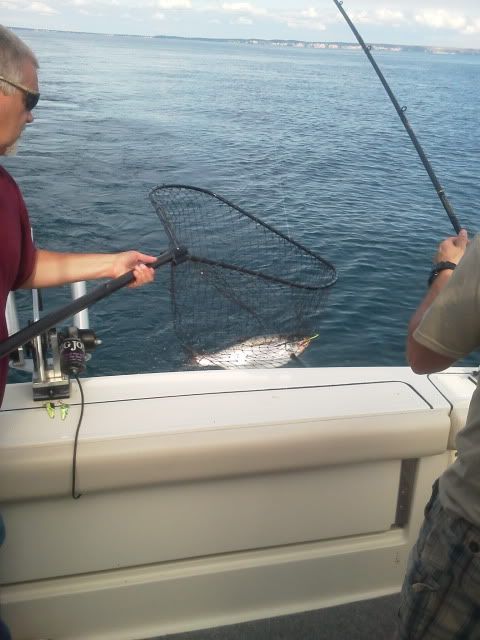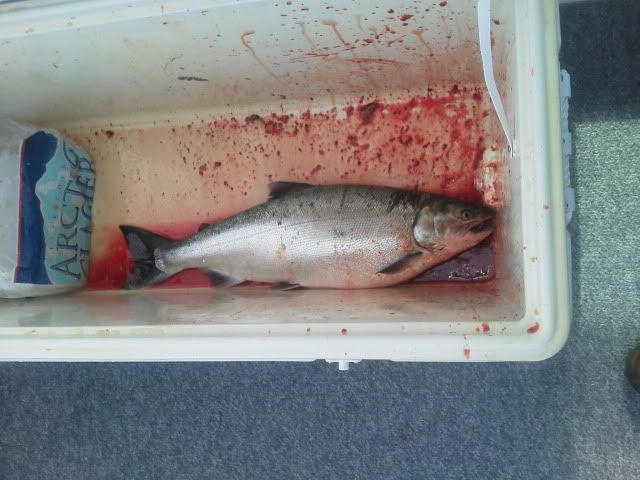 Tom's First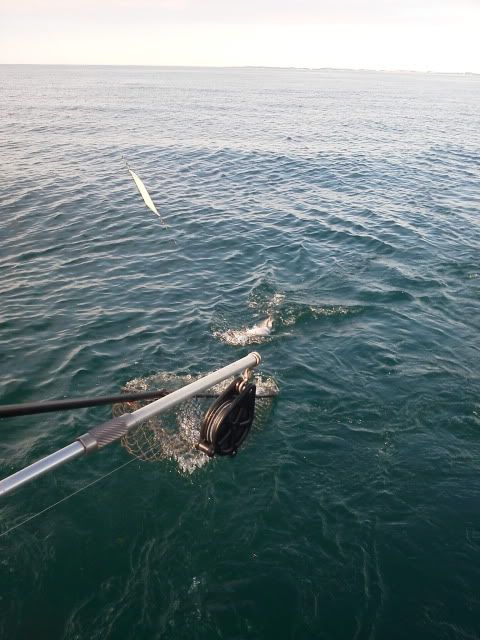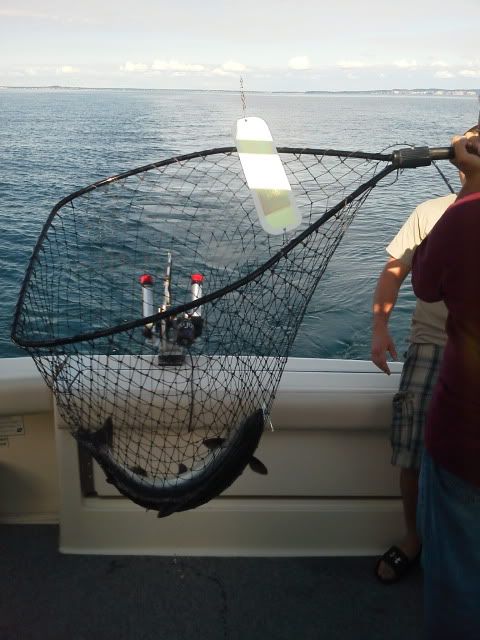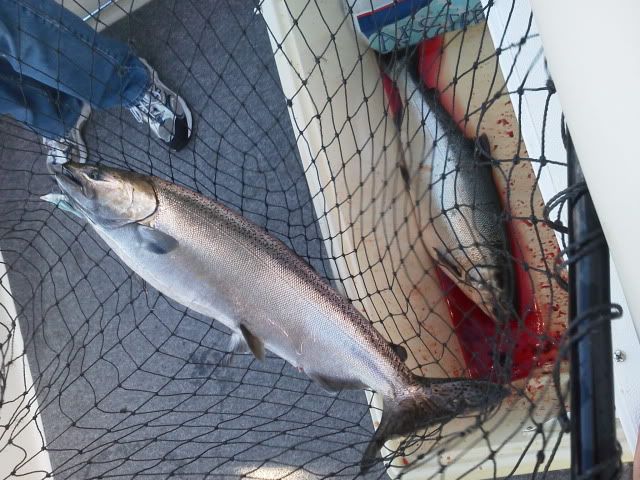 Unbelievable how calm the water was the entire trip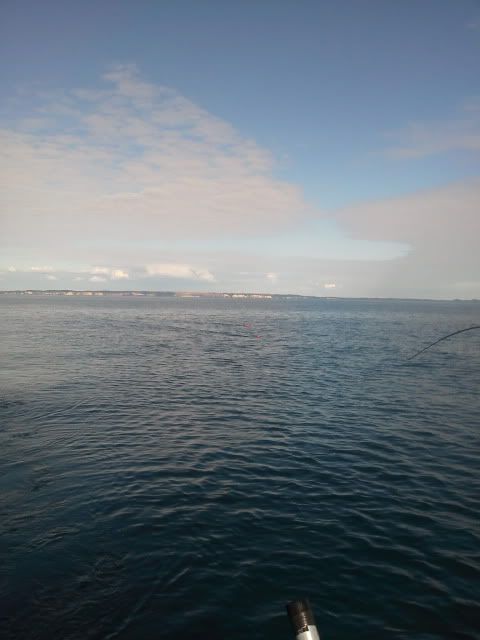 Me fighting a Steelhead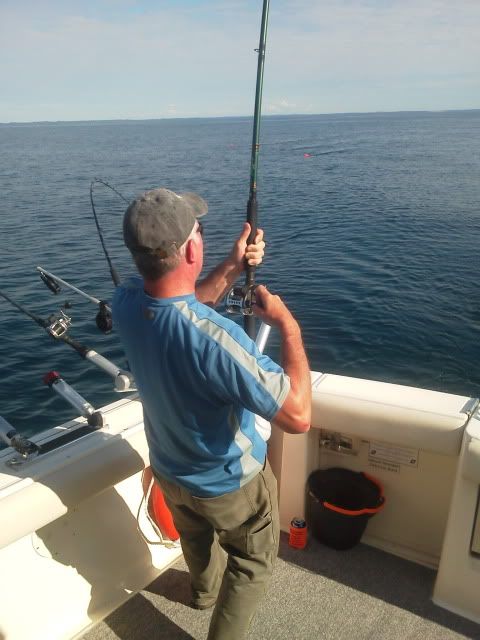 Landing the steelie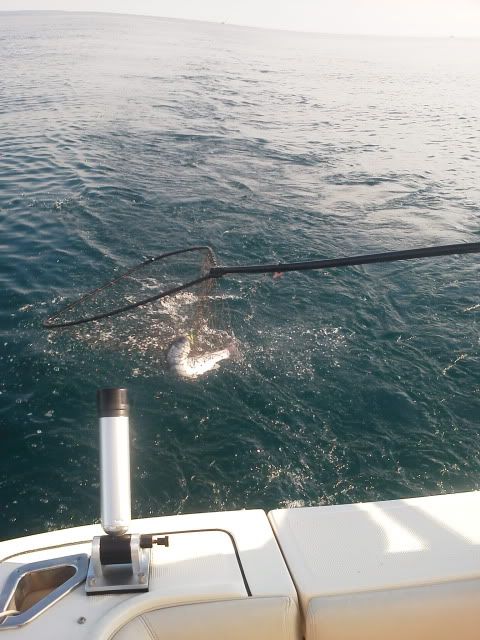 After the bios thought maybe some wanted to see my arm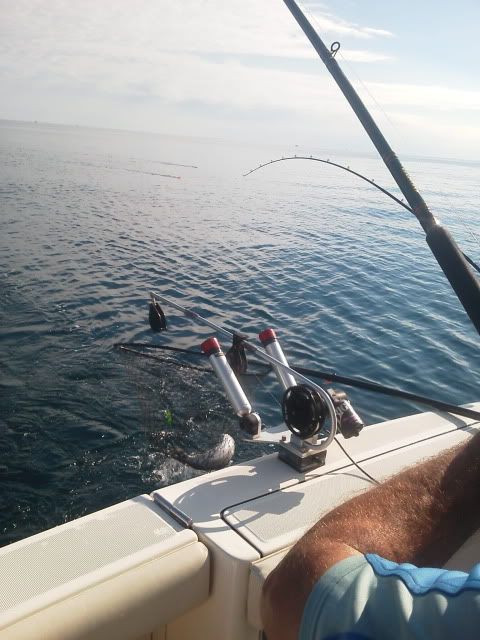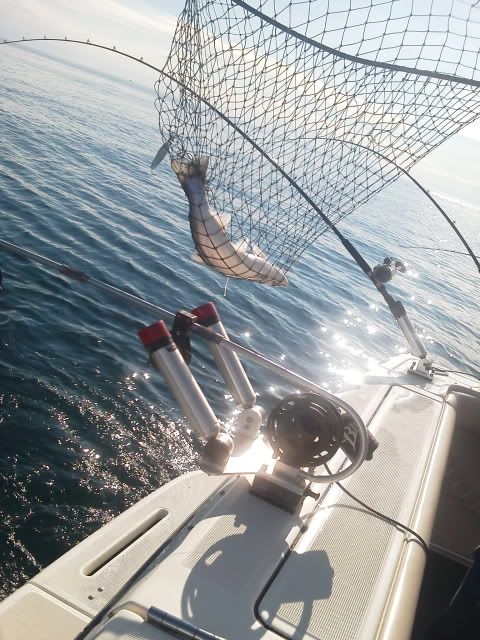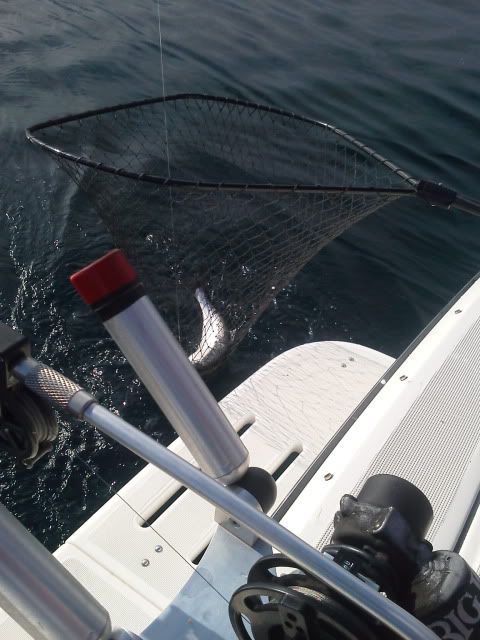 Who doesn't like sunsets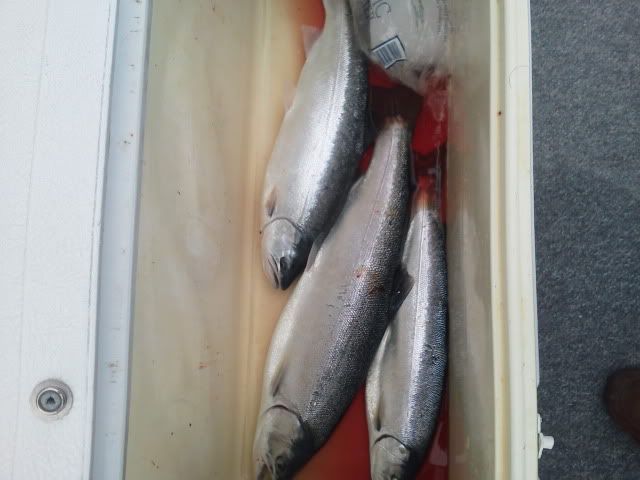 Gordie with a shaker
the crew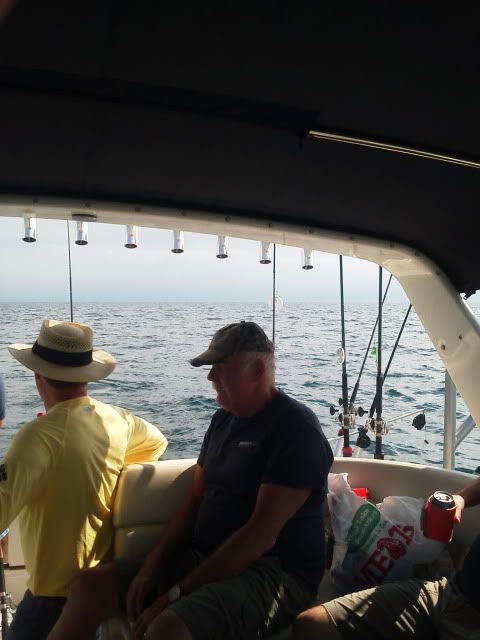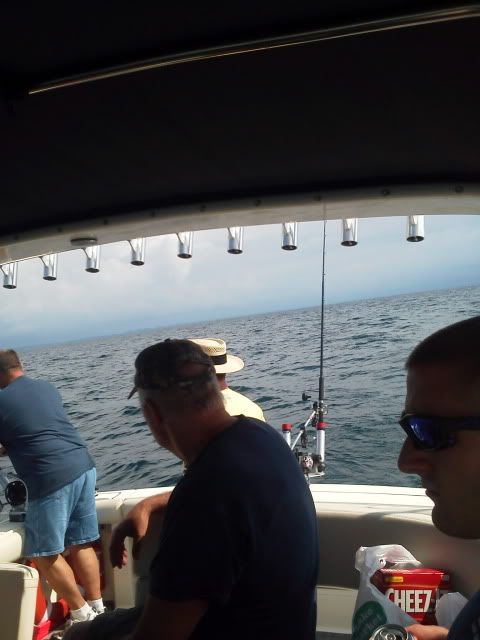 Fish in the cooler (but never more than 4)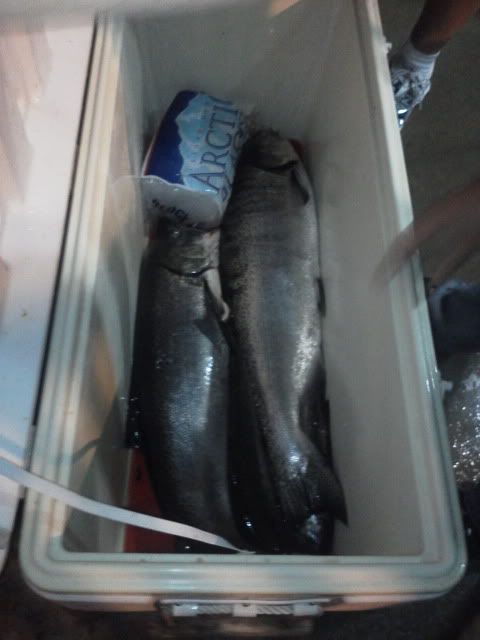 James' 20 pounder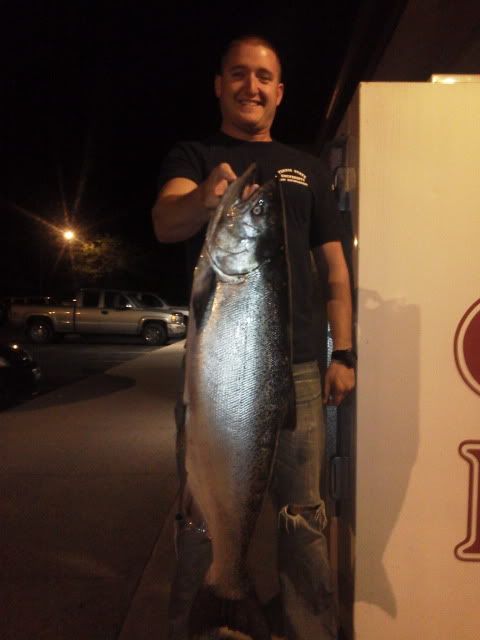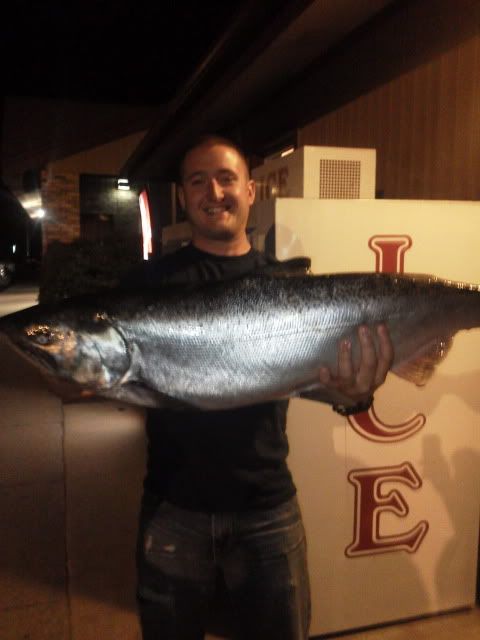 Tom got one that went 19 and that is almost a 10 pound steelie next to it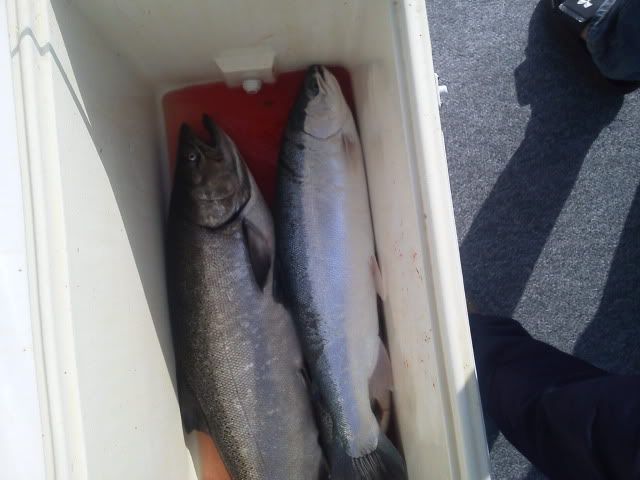 Ron's arm as he fights a good king
Then what is a good fishing story without one of my apple pies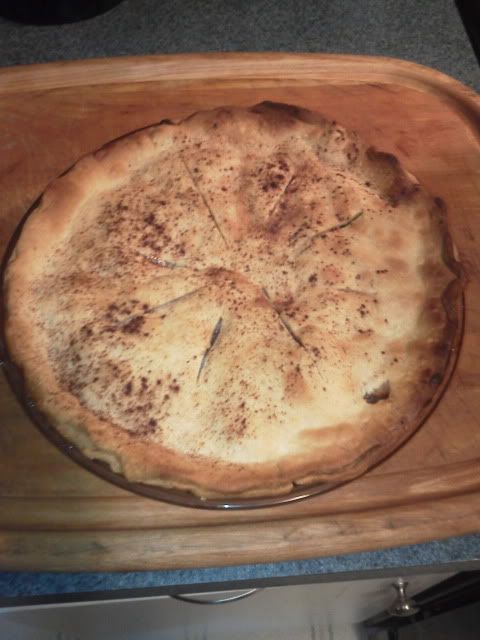 Then my neighbor Randy put his lawnmower in the drink a week ago Sunday(had to take a pic of that)