Moderator
Posts: 6042
Joined: Thu Nov 27, 2014 10:22 am
Location: S Central Wi.
Status: Offline
500 Club
Posts: 667
Joined: Thu Jan 23, 2014 2:35 pm
Location: michigan
Status: Offline
nice buck! Thanks for posting
[ Post made via iPad ]
Posts: 253
Joined: Wed May 07, 2014 9:31 am
Location: The OH-IO
Status: Offline
2016 update
Saturday, November 12th my buddy and I decided to leave our public land camp and head to a different piece of public land for the rest of the weekend. Once we arrived I was dropped off at my hunting location around noon. I headed in blind with my Assault on my back to an area I had never been into, although I had map studied this land extensively.
I took my time on the way in surveying the area comparing what I was seeing on the ground in comparison to my map study. Everything was lining up as planned. Once I was within 50 yards of my predetermined area I jumped two does 25 yards out in front of me. I got to setting my stand up right away.
Fast forward a few moments, I was then standing on the ground with my Assault slung over one shoulder, my bow tied to my pull up rope ready to climb up and hang the stand as I had just finished attaching 4 sticks to the tree. Then I hear it... chasing. They were coming my way fast. A doe, a bruiser buck and a smaller 8 point stop and were standing about 25 feet directly up hill of me and 25 yards out. I quietly grabbed my release from my fanny pack and strapped it on. I then unclipped my pull up rope from my bow and nocked an arrow. I stood as close to my tree as possible for cover and came to full draw on a quartering away buck. However, it just didn't feel right, the angle of the shot up hill like that. I felt it could have easily turned into a regrettable decision had I let the arrow loose. I just didn't feel solid aiming up hill like that so I let down and just leaned against the tree for a few minutes watching them. Off the doe went and the chase followed her to my South-West.
Throughout the afternoon I saw a few more cruising bucks and some chasing again started up with about 40 minutes of shooting light left. After a few minutes of watching the chasing I noticed a deer coming my way from the South-West, the same direction the big buck from earlier went. I then got a glimpse of a big frame and knew it was a good one, the same buck from earlier. He was walking in the direction of where the other bucks were chasing the does around. He approached me with a slight quartering to angle. I mouth grunted him to a stop at about 10 yards and double lunged him. Passing that iffy up hill shot earlier in the day led to a slam dunk 10 yard shot with a 50 yard recovery on the same buck about five hours later.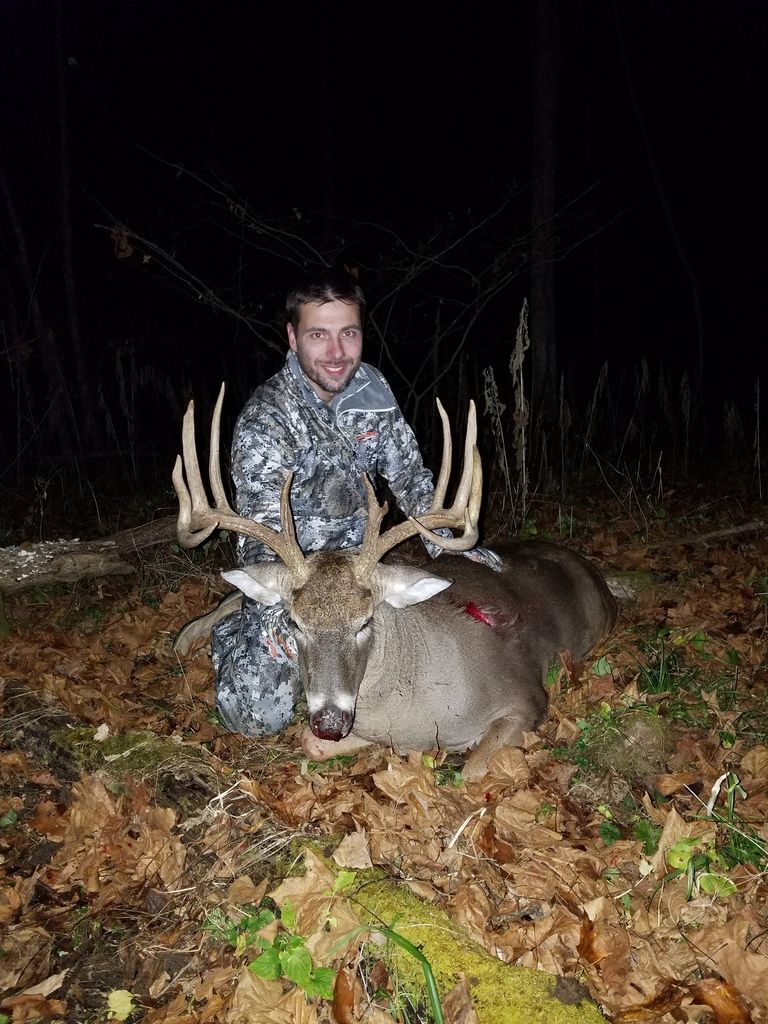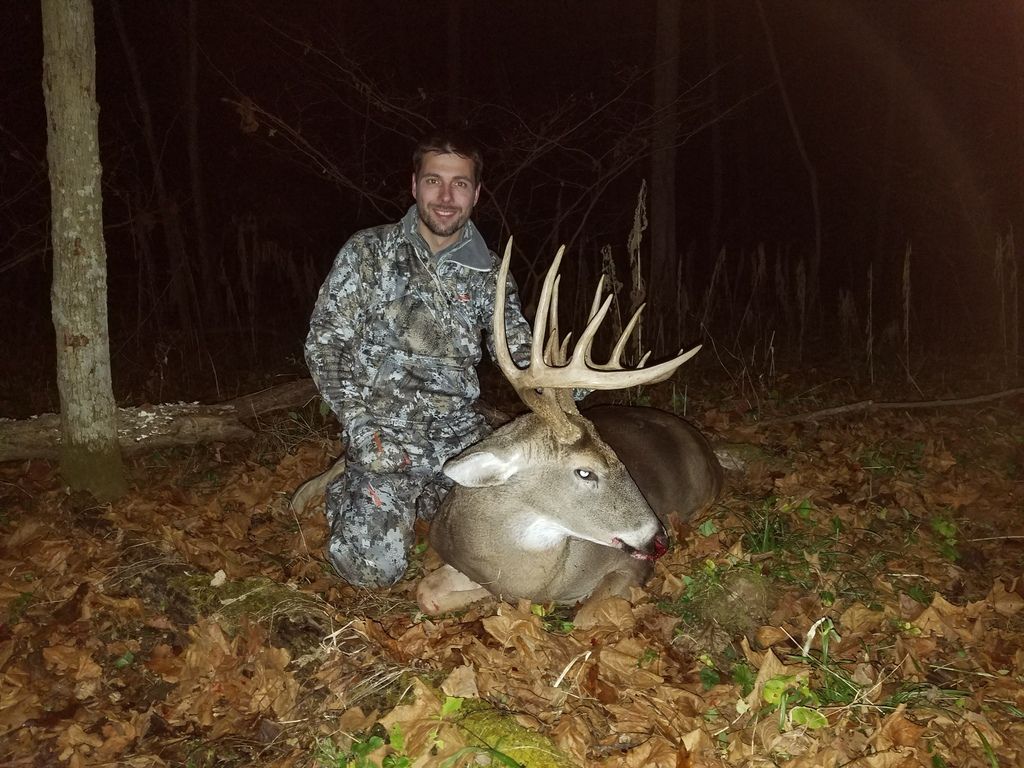 500 Club
Posts: 513
Joined: Thu Dec 15, 2016 7:39 pm
Location: West Virginia
Status: Offline
Awesome stories and spectacular bucks!!
Luck is when preparation meets opportunity!!
Posts: 103
Joined: Mon Oct 19, 2015 2:54 pm
Status: Offline
Those are some incredible deer!!! Thanks for sharing.
500 Club
Posts: 886
Joined: Tue Nov 01, 2011 6:43 pm
Location: ne wi
Status: Offline
Great write up. Thanks for sharing.
Posts: 21
Joined: Sat Feb 11, 2017 7:25 am
Status: Offline
Wow! Great bucks and great stories!
Posts: 17
Joined: Wed Mar 29, 2017 9:28 am
Location: Upstate NY
Status: Offline
Great stuff.
Get in the woods and hunt!
500 Club
Posts: 529
Joined: Sun Oct 11, 2015 4:17 pm
Facebook: Don't believe in facebook
Location: michigan
Status: Offline
Posts: 261
Joined: Sat Oct 25, 2014 12:04 am
Status: Offline
Very impressive! Great reading.
Posts: 100
Joined: Sun Oct 18, 2015 10:21 am
Status: Offline
Buckeye great bucks and stories! My second time reading through this thread. You seem to have a knack for reading maps and putting yourself in the right spot at the right time. I'm just wondering when you are studying maps what are some things that jump out at you or you look for?
Posts: 64
Joined: Sun Jul 14, 2013 1:56 am
Location: Texas
Status: Offline
---
Users browsing this forum: No registered users and 3 guests