500 Club
Posts: 3846
Joined: Wed Sep 18, 2013 1:13 pm
Location: Billings, MT
Status: Offline
Got a nice 3pt side (right) and saw first rattlesnake of the year...probably time to shut it down
You do not have the required permissions to view the files attached to this post.
500 Club
Posts: 3846
Joined: Wed Sep 18, 2013 1:13 pm
Location: Billings, MT
Status: Offline
Made a video of most of our shed finds from this year. Hard to believe its June already
https://youtu.be/t1DP0rOAQJM
500 Club
Posts: 2052
Joined: Tue Oct 29, 2013 5:11 pm
Status: Offline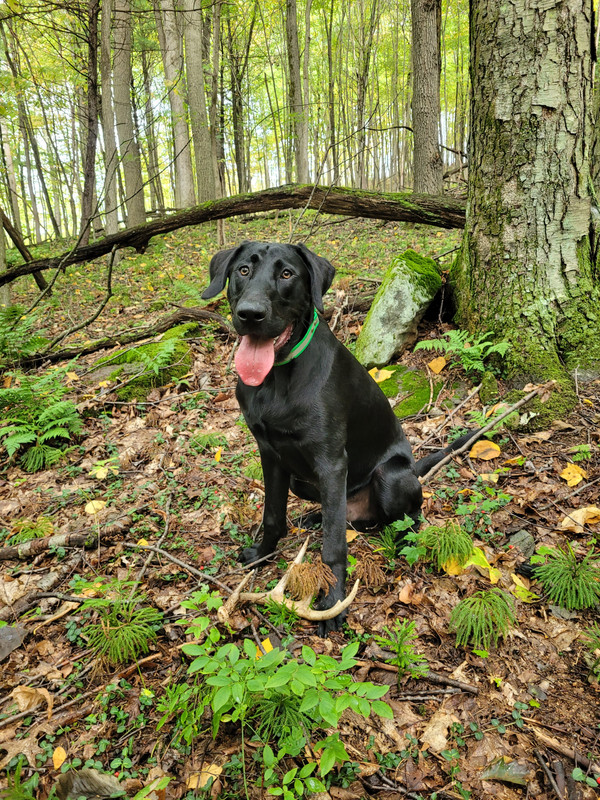 Added 2 more on 09/25/23. Puts me at 9 for the year which is 3x higher than my previous best. Funny part is, only 1 possible pair and it's a spike. Lol.
Some of you remember posts of mine about loosing my coon dog October of 2021 and my German Shepard in February of 2023.
I love working with dogs but the competition coon hunts are kinda not for me. I like smart, good companion dogs. Friendly and always willing to do something. I wanted to try to train a shed dog.
I picked up my black lab puppy, Flint, in April. Oddly enough he was born right after my German Shepard passed.
I've been working with him since the day I brought him home. He's always in the woods with me scouting and running cameras.
I went out to speed scout acorns and sign and hang cameras. He was with me of course. After I got to ground I knew I didn't comb hard, I started giving him hunt commands. Figured maybe he'd find one. I looked up the hillside I was heading up and spotted that shed laying there. Oh boy!!
Started giving him more hunt commands. He hunted and hunted and like I figured, he ran right by it a few times. Eventually, he spotted it, sniffed it and looked confused and walked off. More hunt commands and he went right back to it and bumped it around. I laid on the praise and I could see the light bulb go off. He picked it up and the happy dance started. You could see it "holy crap those things he likes me to find are out here!" I praised him and let him enjoy the moment.
From other shed dog trainers, I knew that was likely how the first wild shed find or handful of them will be before he figures out were hunting not just out there for a walk.
We went a short distance upto an oak flat and I go him water.
Pulled out my phone and GPS to see exactly where I was so I could make a loop where I wanted to check out.
I hear him prancing around towards me. I look up and he had another shed hanging out of his mouth!! I couldn't believe it! It was chewed badly. Just s couple inches of beam, g2 or g3 and end of the beam left and pretty much all that was gnawed on. I was blown away.
Flint is 7 1/2 months old. It's mind blowing to me that a dog can still smell a shed after it's laid for several months. Shed hunting is interesting because it's done by sight and scent.
I'm going to keep on the training and anxiously await the shed season. Very proud of him and solidifies my training methods are working.
Posts: 139
Joined: Wed Mar 02, 2022 2:46 am
Location: NELP, Michigan
Status: Offline
Good stuff.
Go afield with a good attitude, with respect for the wildlife you hunt and for the forest and fields in which you walk. Immerse yourself in the outdoor experience. It will cleanse your soul and make you a better person. - Fred Bear

@upnorthoutdoors989
---
Users browsing this forum: No registered users and 4 guests