This season has been pretty crazy. I will try to cover everything that happened without getting too long winded…
First hunt of the season for me was Friday Sept 9. Decided to hunt midday during the week since I knew another guy was hunting the same spot as me in this area. I figured he wouldn't be hunting midday during the week and Sept 9 was the full moon and near peak rut. Climbed up around 10am and planned to sit until 2pm. 2 o'clock came and hadn't seen a thing. I knew a buck should come thru so I decided to sit til 2:30. 2:05 I hear commotion, grab the bow and turn to see a good white racked buck headed right to me. Ended up with a 23 yard quarter away shot. Shot felt and sounded good. As soon as I hung my bow back up I hear thunder and feel the wind switch. I climb down real quick to mark blood at impact and call to get a dog.
Long story short the deer was not recovered and showed back up on camera. I still cannot figure out what went wrong. Very frustrating way to start the season.
Running track and blood: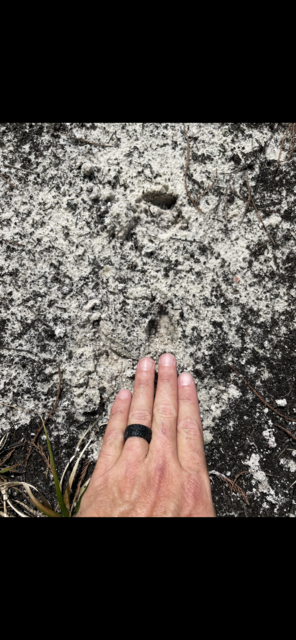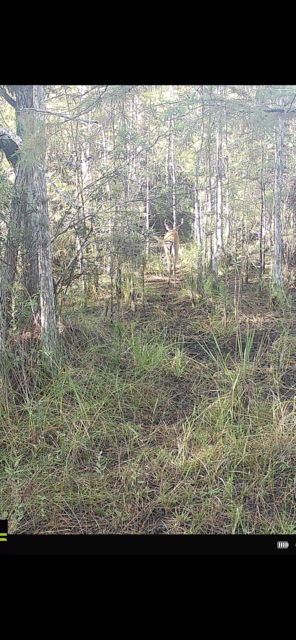 Made it out for a hunt a couple weeks later and stalked up on a group of hogs and was able to arrow one: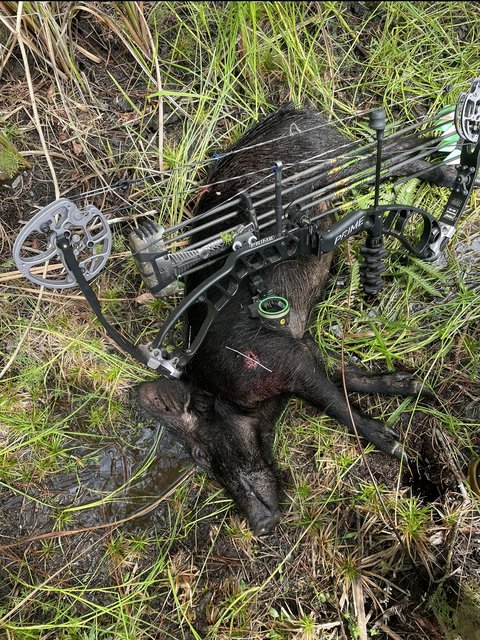 Early Oct made it out for a weekend bow hunt and brought the pup to hopefully get him on some blood trails. Driving on a two lane highway early one morning I came around a corner and a herd of cattle were crossing the road, no time to do anything but hang on and brace for impact: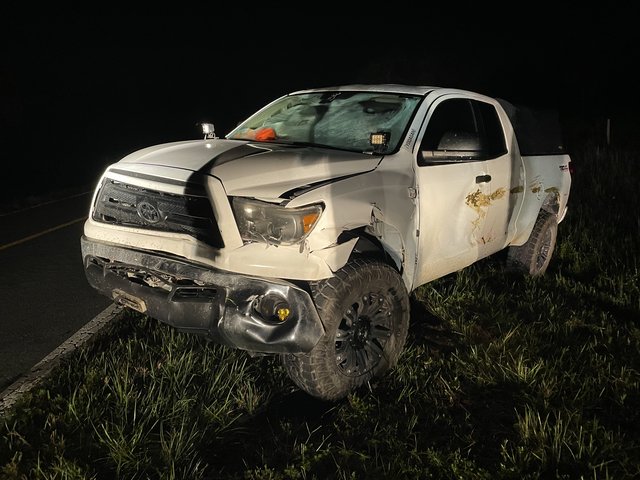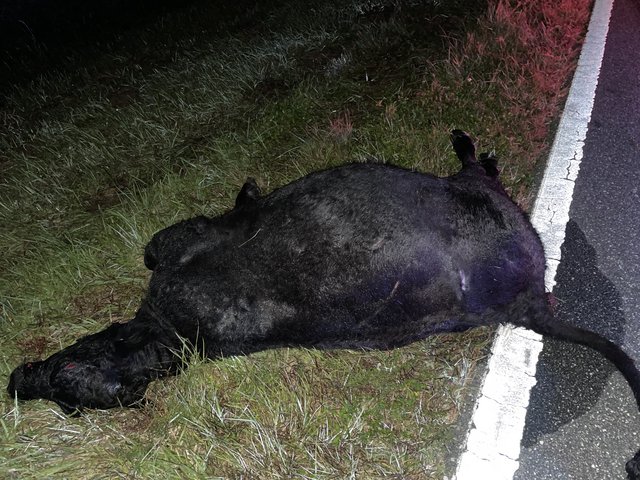 Ended up killing a nice 4point and got the dog on the track. He also got to track a couple other animals for friends.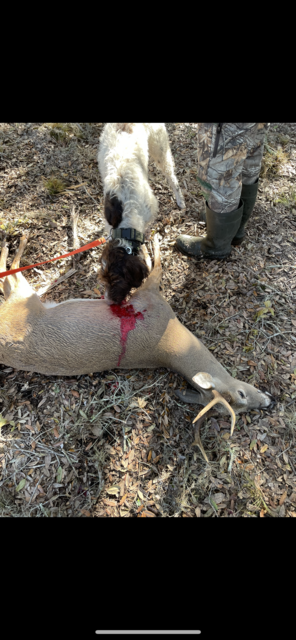 Went to TN for an Oct bow hunt. First day we scouted around and I was pretty dejected at how awful the area seemed to be. Went to check a small bedding point near a swamp and didn't bother to bring my bow. As I am standing there amazed at the amount of beds on this point I hear a dog barking in the swamp near some houses and don't think much of it. Couple minutes later I spot a big deer with a dark rack trotting across the swamp coming right to me. I knelt down and was able to snap some pics as he stood there about 15 yards away. Can't tell in the pic but he is a perfectly symmetrical 10pt probably pushing 150"…
**ALWAYS carry your weapon**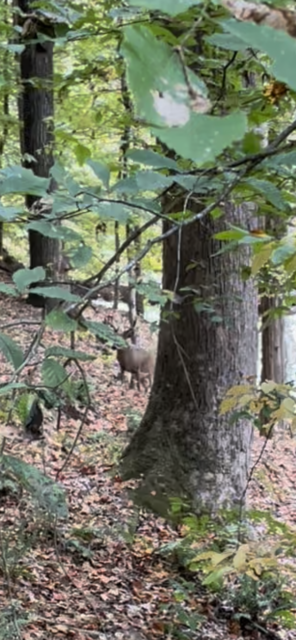 Couple days later I had an encounter with this other 10pt at sub-20 yards at last light I just didn't feel comfortable couldn't make out his shoulder behind the pins…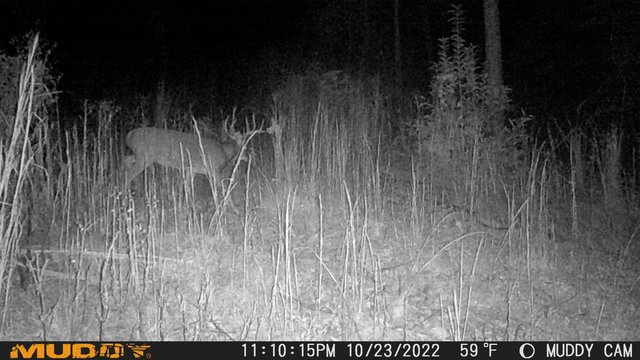 Early November I went with a buddy from the beast to hunt the Mountains of VA. Had an absolute blast. We were expecting some rut activity but the Buck movement was horrifically nocturnal. Even so, we both had opportunities at big mountain bucks by bed hunting, just couldn't quite seal the deal. Can't wait to get back into the mountains again. Even tho it was challenging and 'unproductive', it was one of my favorite hunts I have been on.
Late November I went up to PA to rifle hunt with the family. Brought the dog along again so I wasn't going to be picky. Opening day I shot a 7pt and got the dog on the track he did very well. My brother shot a 7pt from the same stand the following day and the dog got to track that one as well. Very happy with how he has been doing: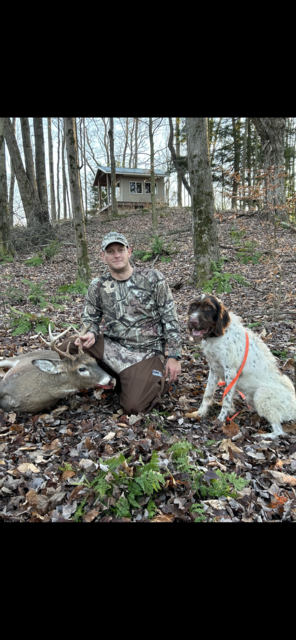 Also this was my brothers first deer!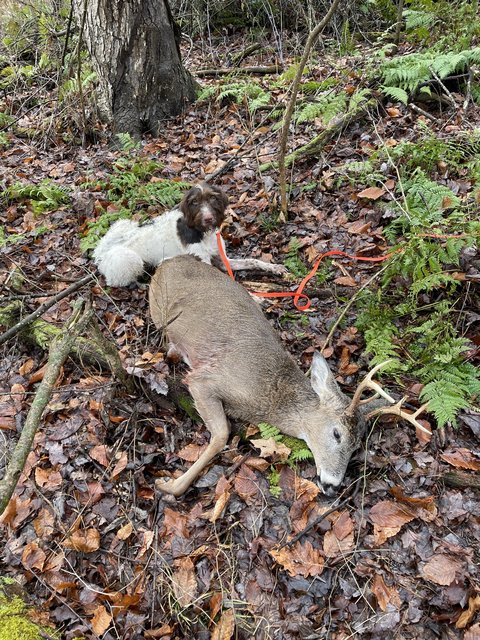 Took about a month off from deer hunting after that trip and waited for conditions to get right to hunt again here in FL. Did get after some birds in the meantime with the dog and realized I am not much of an upland hunter, nor much good of a bird dog trainer. We have a lot of work to do this summer
Got back out around Christmas for a Sat-Sun for that cold weather. Ended up killing a nice 4pt and an old 5pt I was after last year: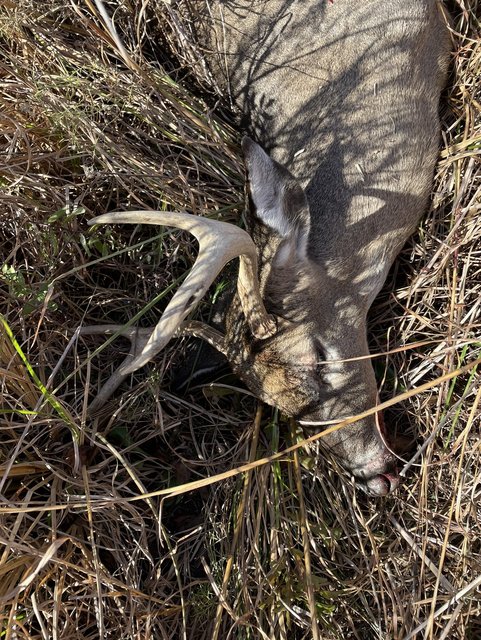 5pt: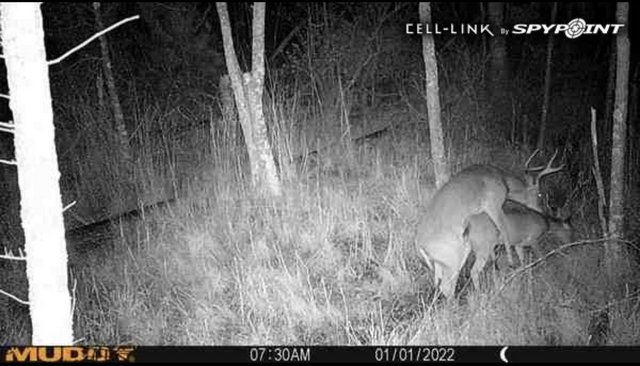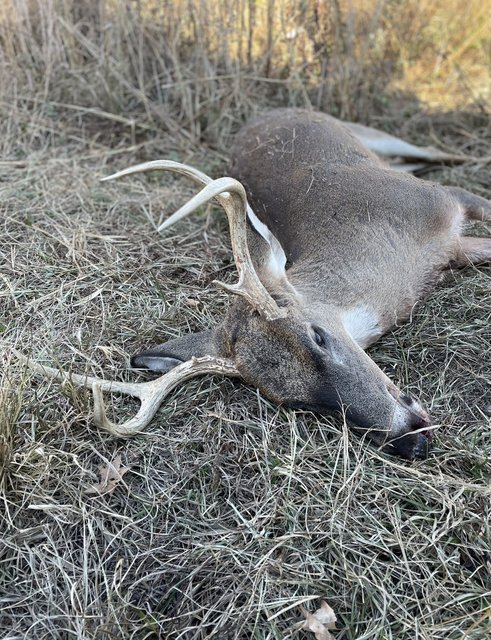 I was ready to pretty much hang it up after that, but the weather got absolutely perfect a few weeks later so decided to do another weekend hunt and was able to connect on a nice 8pt. This one was a bit of a rodeo. Hit him and he went right down. Watched his white belly for a few minutes and started packing up, next thing I know he is up and running into a swamp
. Saw him bed, I had to climb down and sneak in for a follow up shot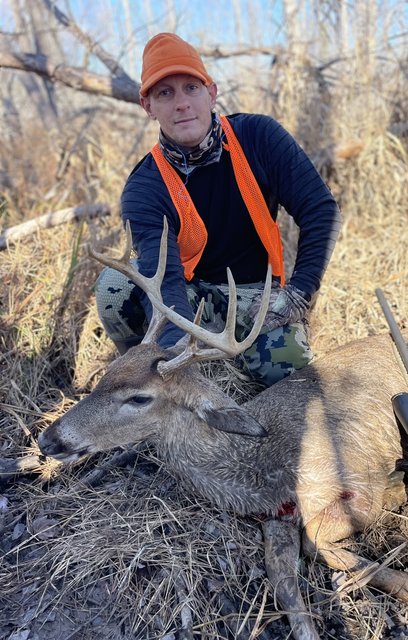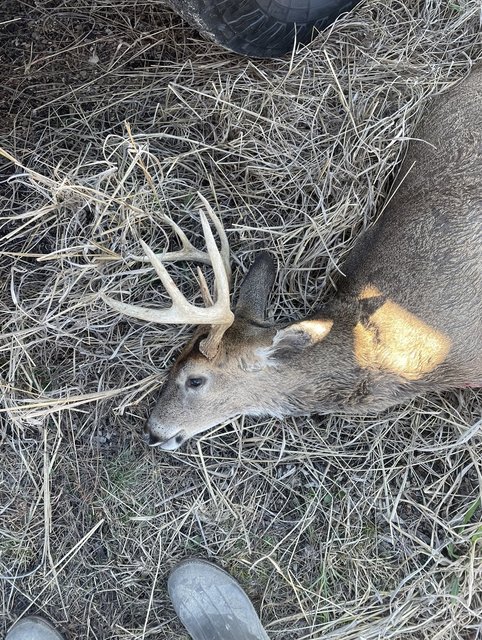 Anyways. Even tho this season started out rough and had ups and downs it definitely has given me some great memories. You just have to keep positive and stick with it no matter what and remember to always enjoy the process. Even when you fail. These were just the highlights of my season, I had a bunch of failed encounters and sits that didn't work out that I didn't get into and it can wear on you if you let it. You have to look at those encounters as a win, even if you don't get a kill…
Ugh, ok I'm done rambling. Hope everyone had a good season.